NFL Handicapping: Wild Card Line Movements
by Trevor Whenham - 1/8/2010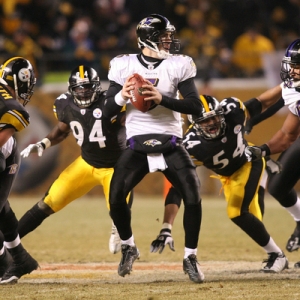 The wild card round gets underway on Saturday. The betting volume is always huge for the playoffs - more casual bettors pay attention when the playoffs roll around, and fewer games on offer mean that bettors have more to spend on each game. Because the volumes are higher, the lines are under more pressure than normal, and we need to be more aware of how they are moving and what that can tell us. Here's a look at the line movement for each of the four NFL wild card games:

100% Bonus
Get up to $125 Free
Limited time offer
Exclusive to Doc Sports
(Some Restrictions Apply)
Click here to join Sports Interaction now

New York Jets (+2.5) at Cincinnati Bengals (Saturday, January 9, 4:30 pm ET) - The public can't seem to decide what to do with this game. The line opened at different levels in different places - four, 3.5, three and 2.5 depending upon where you looked. For the most part it adjusted quickly to 2.5, and it has stayed there. The bets have been evenly split between the two teams, and there doesn't seem to be any particular pressure for the line to move in either direction at this point.

The fact that it has settled where it is at is interesting in a couple of ways. First, it makes the Bengals more attractive than they might otherwise be. In a game like this that is basically a coin flip, the Bengals are facing a spread of less than the typical home field advantage. That makes it easier for them to cover, and that makes them very attractive to people that like them. Given that, the fact that the public isn't pouring onto the Bengals is telling. Because the action is split so evenly between the teams, it is also interesting to note that it appears that the public isn't putting too much stock into the Jets' blowout win just last week. That game was ridiculously one-sided, but the Bengals had little reason to play the game, and they clearly didn't. That the public looked beyond the score to the actual story of the last game is interesting and frankly surprising.

Philadelphia Eagles (+4) at Dallas Cowboys (Saturday, January 9, 8 pm ET) - The line opened at four, and it has stayed there like it's welded in place. There are two online books with different odds as I write this - one that has moved it higher, and one that has moved it lower. The bets are on the Cowboys slightly more right now. The chances of this one moving in a meaningful way are very low. My guess is that the smart money would continue to take advantage of getting more than the field goal on the Eagles in what should be a hard-fought game. The thing is, though, that the public loves the Cowboys - they are America's team and all - and they will bet on them more and more as the game gets close. That means that action is going to be reasonably balanced at this level and shouldn't need to change.

Baltimore Ravens (+3) at New England Patriots (Sunday, January 10, 1 pm ET) - Here's something very interesting. The number of bets have been basically split between the two teams. Despite that, the line, which opened at four, has been falling, and is now at three. Any movement that involves moving to or through the key number of three is very significant. It's significant that the line is falling, and especially significant that it is falling for the Pats - an incredibly public team. That's a very good indication that some big bets are being made on the Patriots. That's likely a response to the injury to Wes Welker and the other injury and depth issues that the Patriots have. As we get closer to the game the public will be betting more, and that means that the Patriots will be getting more bets their way. If the line doesn't climb before the game then we'll know that the smart money is heavily on the Ravens.


After completing this article view our Suicide Pools page. If you plan on betting NFL you'll also want to read our Wagering Guide for NFL page. Doc's NFL draft prospects resource is a must read for NFL wagering. For more NFL articles and free picks visit our homepage and view the "Doc's Daily Medicine" section.


Green Bay Packers (+1) at Arizona Cardinals (Sunday, January 10, 4:40 pm ET) - This one's not hard to explain - no one likes the Cardinals. The public and the smart money appear to agree here, and that means that the line is going to move without friction. The line opened at 2.5, and it can be found as low as a 'pick 'em' right now. It might not even be stopped there. More than three quarters of bets have been on the Packers, and there is no real reason to expect that to change significantly. Bettors have made up their mind here. Now all that's left is to see if discounting the Cardinals works any better this year than it did last year.