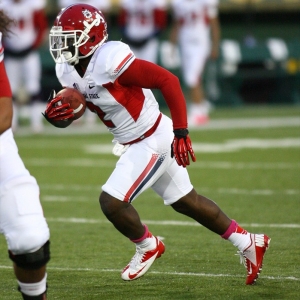 Betting on and winning at college and pro football can be a very tough task for those who don't work full-time at it. I spend the entire week researching teams and game matchups, trying to uncover any edge. I will be here each week to share some of my "tricks of the trade" and also offer other insights when it comes to beating the football betting market.

--Each week I make a power rating for all of the teams in college football and in the NFL. I devise these numbers by taking into account numerous key factors, from key statistical information, in-depth reading and research, and, lastly, my own personal observations from watching a team play. For the most part my numbers are right in line with a lot of the other ratings that you see over the Internet these days, but there are also some exceptions. The key to winning at sports betting is to find teams that are either over or undervalued in the betting market and bet for or against them in the right spots. Here are a few teams that I feel are undervalued right now.

100% bonus up to $500
at GT Bets
CLICK HERE
College Football
Michigan
This is the best two-loss team in CFB. The Wolverines losses were against two of the top-ranked teams in the nation in Alabama and Notre Dame, and their loss to the Irish was due to the six turnovers they had in the game. That was also a very tough road game for Michigan as they were up against a team with big-time revenge on its mind. Give the Wolverines an easy early-season schedule this year and we are talking about an undefeated team right now instead of the one that most folks are down on at this time. These Wolverines are for real in what is a very winnable Big Ten Conference.

Fresno State
I'm not saying this is a top team, it's far from that actually. However, it is one that is vastly underrated right now. The Bulldogs are averaging more than six yards per play on offense and allowing less than five yards per play defensively this season. You won't find a more obscure team in CFB with numbers that impressive right now. With some easy games on their horizon, keep an eye on Fresno State here later in the season.

Washington
The Huskies have played LSU, Stanford, Oregon and now get USC this weekend. No team has come close to playing a tougher schedule here early on this year. To make matters worse, that schedule has also featured teams with completely different styles of play. Through it all, Washington has hung in there and is sitting 3-2 overall on the season. Not sure it gets much easier for the Huskies in the coming weeks with games on tap against Arizona, Oregon St, Cal and Utah as their next four games after playing USC this Saturday. There should be some nice line value here backing a team that has played a lot of tough games thus far.

NFL

Detroit
The 1-3 Lions have actually been a decent team at the line of scrimmage. Instead it's been their special teams that has killed them this season. In fact, with any kind of decent play out of that group the Lions would most likely be a team that everyone is still talking about. If the Lions were getting beat on the offense and defensive sides of the ball then, yes, I would have a problem with them being 1-3 right now. However, that really hasn't been the case so far. For the most part poor special teams play has been the culprit. This is something that doesn't consistently show up week to week in the NFL box scores like it would if a team was real bad on either side of the football, as there just aren't enough plays each week involving this unit. It seems the betting market has gone to sleep a bit on this young team with loads of young superstar talent. By the time this season is over, the Lions will make some noise.

Denver
The Broncos have my vote as having played the toughest schedule in the NFL so far. Denver has faced both undefeated teams (Houston and Atlanta), opened the season versus the always-tough Pittsburgh Steelers and also went on the road to play New England. In their only game against what is a non-playoff type team so far this year, the Broncos crushed the Raiders by a 37-6 score. Things will start to lighten up for this group and when they do you will see a team that is the best in the AFC West.

Carolina
You may be surprised by this choice, but a bad team in the NFL usually has problems moving the football, making it almost impossible to back them to cover point spreads. The 1-4 Panthers are not that kind of team and are never out of any game. If you bet the Panthers you always have a chance with their offense, even when they are beat late as they have the players to score points quickly and can come in with a late backdoor cover. All four of their losses so far have come by eight points or less this season. This is what folks call a "live underdog".

Next week we will take a look at some of the top overvalued teams in CFB and the NFL so far this season.

It's going to be a real big week for me this coming weekend with my 7-Unit NFL Game of the Year selection coming up this Sunday. I have won nine of my 11 "big play" selections (plays rated six units and higher) in all sports since June 1, including last weekend's easy CFB Game of the Month winner. This play has everything I look for in my top plays with great line value and a team being in a great situational spot as well. I have gone 5-1 the last two weeks in the NFL and feel in total sync right now with my pro football picks. It's been nothing but consistent profits this season with the college plays also, as I am hitting just a shade below 60 percent overall for the season with them. Click here to purchase my picks package this weekend for only $99.
Here are a few plays that I like that didn't quite make it as final selections for my upcoming football card.

#112 Oklahoma -2.5 over Texas (noon EST): Texas showed last week that it's not quite ready to be mentioned in the upper echelon of college football teams this season, losing at home to West Virginia. This looks to be a team that is still a year away from the level of an Oklahoma program. The Sooners really flexed their collective muscle last week on the road in beating Texas Tech and doing so in convincing fashion. Their only blemish this season was to a very good Kansas State team, and it was in a game that the Sooners could have easily won. Oklahoma shows they are the much better of these two programs here with a 31-20 victory.

#132 Minnesota +3.5 over Northwestern (noon EST): Minnesota has had two weeks to prepare for this contest here at home. This is a big game for a team that looks to be vastly improved this season. They ran into a buzz-saw last game against a desperate Iowa squad who was at home and coming off an embarrassing loss. I haven't been a big believer in this Northwestern team this season. They have stuck around in most games and have found a way to win things late. They look to be nothing more than a very average team on both sides of the football, and I see no reason for them to be favored here in this setting on the road. With two weeks to prepare, I expect the Gophers to play a very strong game here and win a tight one, 28-27

#219 Detroit +5 over Philadelphia (1 p.m. EST): Any time you can get a team with a losing record coming off a loss and a bye week it's a good bet in the NFL. We have that here in this one as the Detroit Lions have had a few weeks to stew over their awful special teams play in a tough and embarrassing home loss to the Minnesota Vikings. It was a game that the Lions had no business losing as they looked to be the better of the two squads at the line of scrimmage in that contest. The Eagles may be asleep a bit here in this one as this contest comes after back-to-back tough, hard-fought battles against their two top rivals, the Giants and Steelers. Expect Detroit to be the one playing with more energy here in this game. Look for the Lions to win a close one, 23-20.

Here are a couple more leans I had this week against the spread in CFB and in the NFL: Missouri, Stanford and Indiana in CFB. In the NFL I will have smaller plays on Buffalo and Green Bay. Good luck this week and may all your bets be winning ones!!