2014 Super Bowl Handicapping
by Trevor Whenham - 1/22/2014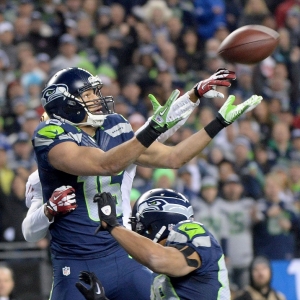 After all this waiting, the Super Bowl is finally around the corner. We know who is playing, and now we can focus on 2014 Super Bowl handicapping. When embracing that monster of a task, there is one sentence to keep in mind more than any other if you want to succeed:
This is not just another game
If you can remember that then you will be in good shape. Sure, in a lot of ways it is just another game. The team that scores the most points will win, they will play for 60 minutes, and so on. In fact, it can be easy to dismiss the differences and convince yourself that this is just like any other game. While doing that is important from a betting perspective — you don't want to be making betting decisions here that you wouldn't make on another day — it is dangerous from a handicapping perspective.
Free $60 in Member Super Bowl Picks No Obligation Click Here
So, how is it different, and how does it matter for handicapping. Here are six ways:
Crowd: The crowd is large for the Super Bowl, but it is shockingly quiet. Only a small portion of the tickets are allocated to the fans of each team, and many of those are resold to brokers. The large majority of people attending don't have a particular affiliation to either team, and many are there for corporate schmoozing, not hardcore cheering. Both Denver and Seattle benefit from very loud crowds at home, but neither is going to enjoy that here. This is every bit a neutral-site game.
Length of game: This game takes forever. Much longer than a usual game. The commercial breaks are longer. The pre-game ceremonies stretch out forever. The halftime is much longer than normal. It is much harder to maintain any rhythm in this game than most, and teams that like to play quickly can be particularly frustrated.
Pressure: This is the game that every kid who starts playing football dreams of winning one day. Combine that lifetime of anticipation with more public and media attention than any other game by a factor of 10 and you have incredible pressure on every player and coach in this game. Some players and coaches handle that pressure much better than others, but it is a factor for every guy.
Prep time: The teams get a week at home to get ready for this game before heading to the host city for a week. We know during the regular season how unpredictable teams can be after a bye week, and this is like a bye week on steroids.
Halftime: Halftime in the Super Bowl is much longer than in a regular game to accommodate the fancy show. That can have both positive and negative effects. Being longer, it can knock players out of their rhythm and cause them to tighten up and feel their bangs and bruises. On the other hand, though, the extra time gives the better coaching staff a distinct advantage. They have more time to plan and implement the adjustments that will make a difference in the second half. For this reason I give more weight to the quality of the coaching staff and their ability to adjust in this game more than in any other — and it's a significant factor in my eyes at all times.
Public action: When the public bets on a game, crazy things can happen. This is the game on which the public bets much, much more than any other game all year. They bet a ton on the sides and totals, and they will pour money on prop bets as well. The books have a whole lot at stake for this game, so you can be certain that they will be doing everything they can to make a profit. That means that when they set lines and when they move them they are calculating what makes the most sense. It could be easy to make assumptions about what the public is doing and what it means. Those assumptions are dangerous, though, because they may not always be true. For example, the public typically likes the favorites, yet in the championship round they were on the underdogs quite heavily in both games — and lost both bets as a result.
Instead of basing your decisions on assumptions and generalizations, you need to learn everything you can about how the public is betting and what that means for the game. Early action came in very heavily on the Broncos, and the line swung by as much as five points initially before settling down as a result. It will be important to see if that kind of support continues or if the public has different ideas as they get more involved in betting on the game.
Get free picks from any Doc's Sports handicapper – there is no obligation for this offer and no credit card required. Just sign up for an account, and you can use the $60 in free picks for any Doc's Sports Advisory Board handicapper and any sport. Click here to get started now.
Read more articles by Trevor Whenham