Bookmaker's Corner: Betting on College Basketball Futures
by Richard Gardner | Bodog Sportsbook Manager - 11/5/2009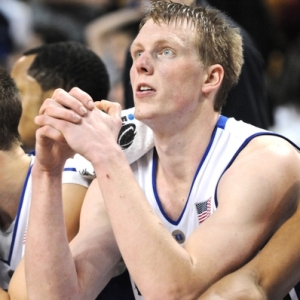 Last week's unveiling of the college basketball AP, ESPN/USA Today and coaches preseason polls has created a sudden influx of college basketball futures betting over at Bodog. To give you an idea as to what's currently available, consider the current odds to win the 2010 NCAA men's basketball championship…
The coaches and media have given the Kansas Jayhawks top ranking and as such the Jayhawks are now listed at 4/1 to win the NCAA men's championship, a direct reflection of what the pollsters think.
Instant $250 Free Bonus Bet from Bovada -
CLICK HERE
Cole Aldrich, Sherron Collins and Tyshawn Taylor are back for the Jayhawks and they've also added Xavier Henry, the highly-touted freshman from Oklahoma City.
Perennial powerhouses like Kansas always receive preseason action from futures bettors, even in leaner years. The same is true for schools like North Carolina (15/2), Kentucky (5/1), and Duke (10/1), all three of which are expected to compete for a title in 2010.
The Tennessee Volunteers are another popular futures bet, particularly at 7/1 to win the SEC East. Whether that's because the Vols have reached the Sweet 16 in two of the last three years or there's a contingent out there that thinks Kentucky's overrated we don't know.
Butler (50/1) is getting a lot of love to win it all, the little school from Indiana having reached the tourney the past three years.
A futures bet that's getting some unexpected action is Oregon to win the Pac-10. Maybe Ducks fans are feeling a little cocky after the football team hammered USC?
As for the conference favorite that bettors seem to believe in the most, Villanova is getting a lot of attention at 3/1 to win the Big East.
Michigan State and Texas are No. 2 and 3, respectively, in both polls and only garnering 12/1 odds to win a championship, the same odds as Louisville, No. 19 in the AP and No. 23 in the ESPN/USA Today.
Purdue is No. 7 in both polls and getting a generous 22/1 to win it all, while Washington is in the top 15 in both polls and getting 45/1.
Minnesota and Mississippi State are both ranked and getting 100/1. And there's Dayton, ranked and getting 200/1 odds to win the 2010 NCAA men's basketball championship.
I will be posting weekly articles including betting previews, matchups and the inside scoop from a bookmakers point of view right here at Doc's Sports. Read my past articles - Click Here, and learn more about Bodog sportsbook - click here. If you're ready to set up an account and start playing I'd like to offer you a Sign up Bonus - Click Here. Enjoy the Bodog Experience.