Bookmaker's Corner: Betting Quarterback Controversies
by Richard Gardner, Bookmaker, Bodog Sportsbook - 10/2/2009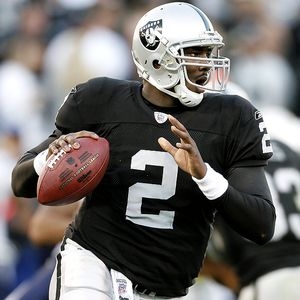 NFL quarterbacks regularly make the headlines because they're the offensive leaders on their team; a good or bad start to the season by any QB can make or break a team's chances at getting to - and then doing well in - the playoffs. Heading into Week 4 of the NFL regular season, we're looking at a few QBs who took brutal hits - or who were just brutal, plain and simple.
Instant $250 Free Bonus Bet from Bovada -
CLICK HERE
Take JaMarcus Russell, for instance. He was brutal. In Oakland's 23-3 loss to the Denver Broncos, the Raiders' quarterback completed just 12 passes for a laughable 61 yards. He also managed to throw two interceptions while getting sacked three times.
Russell's first two games were equally brutal and yet Oakland coach Tom Cable is firm on starting Russell on Sunday at Houston. Bruce Gradkowski and Charlie Frye are probably still shaking their heads.
To pick your NFL winners, it's important to constantly review how teams are handling their quarterbacks.
While some teams will choose to stand by their highly-touted young quarterbacks in hopes that they'll eventually find their way, other teams aren't so patient.
Cleveland coach Eric Mangini decided to bench his 24-year-old quarterback, Brady Quinn, in favour of Derek Anderson after Sunday's first half in Baltimore that saw the Browns fall behind, 20-0. Mangini's starting quarterback this week against Cincinnati is still a mystery.
Of course, as important as the quarterback might be, it isn't the only factor that determines wins and losses.
At Bodog we see bettors overreact to a quarterback's ups and downs all the time. For example, plenty of action came in against the Eagles last week versus the Chiefs when news broke that Kevin Kolb would start for a second straight week if Donovan McNabb couldn't play.
Kolb had a tough time in his first game as a starter in Week 2 against the Saints, a 48-22 New Orleans victory. He threw three interceptions and as a result, a number of bettors were not at all comfortable backing Kolb in Week 3, especially with the Eagles laying a lot of points.
So what happens? Kolb went 24-for-34 for 327 yards, two TDs and no picks in the Eagles' 34-14 win.
It will be interesting to see what the fallout will be for bettors who may have been looking forward to another successful season by the Miami Dolphins. In Monday's loss to the San Diego Chargers, the Dolphins also starting QB Chad Pennington to what could be a season-ending shoulder injury.
While it's important to stay up to date on NFL quarterbacking news, it's also important to understand the story behind the news - and the potential impact.
I will be posting weekly articles including betting previews, matchups and the inside scoop from a bookmakers point of view right here at Doc's Sports. Read my past articles - Click Here, and learn more about Bodog sportsbook - click here. If you're ready to set up an account and start playing I'd like to offer you a Sign up Bonus - Click Here. Enjoy the Bodog Experience.