Bookmaker's Corner: Laughing with the Saints
by Richard Gardner | Bodog Sportsbook Manager - 11/4/2009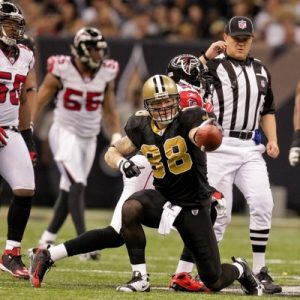 Billy Joel wrote that he'd rather "laugh with the sinners than cry with the saints," but after their seventh straight win we're inclined to believe that the New Orleans Saints have been doing a lot more laughing than crying these days.
To all those bettors who had New Orleans by anywhere between nine and 11 points on Monday night, my condolences. That was quite the bad beat. On the other hand, it worked out nicely for us at Bodog, as did most of the games in Week 8.
Instant $250 Free Bonus Bet from Bovada -
CLICK HERE
The Giants-Eagles game opened New York +1 and moved all the way to -2 with bettors expecting the G-men to bounce back in Philadelphia after two straight defeats. Oops.
Things aren't looking so bright in New York with a 5-3 record and a tough schedule to finish the season. Trips to Denver and Minnesota loom, with home games against Atlanta, Dallas and Philadelphia. We'll have to think long and hard about the Super Bowl futures price we put on the Giants as they enter their bye week.
Another big win for the book came when the San Francisco 49ers covered the 13-point spread at Indianapolis. Ouch. The Colts are at home to a red-hot Houston side on Sunday, hosting New England the next week, and traveling to Baltimore the week after that. This could make it interesting for us as we try to come up with those numbers.
The Texans, on the other hand, made a good number of bettors a few bucks on Sunday when they beat Buffalo. Quarterback Matt Schaub has thrown for the most yards in the NFL, averaging 293 per game. In fact, maybe the most important number we post for the Colts-Texans game won't be the spread; it'll be the total.
Week 9 NFL odds will likely include a ton of action on the Green Bay Packers, with bettors expecting them to bounce back from the loss to Minnesota by going down to Tampa Bay and hammering the Buccaneers by at least 10 points.
It's pretty rare that a 6-1 team is a 3-point dog at home on Monday night, but for the Denver Broncos we're thinking that's exactly the case as the 5-2 Steelers visit this week. Bettors took a long time to get comfortable putting their money on the Broncos and it appears it won't take much for them to stop, especially against a Pittsburgh side that's coming off a bye week after winning four in a row.
I will be posting weekly articles including betting previews, matchups and the inside scoop from a bookmakers point of view right here at Doc's Sports. Read my past articles - Click Here, and learn more about Bodog sportsbook - click here. If you're ready to set up an account and start playing I'd like to offer you a Sign up Bonus - Click Here. Enjoy the Bodog Experience.