Bookmaker's Corner: Getting a Handle on Bowl Games
by Richard Gardner | Bodog Sportsbook Manager - 12/16/2009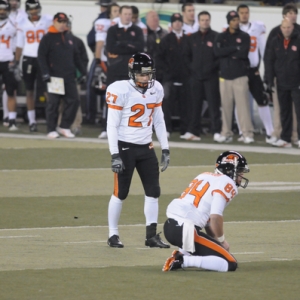 College football fans and bettors have been waiting all season for bowl season to get underway and it all starts this weekend. Finally. Our college football odds have been getting a lot of attention from our players at Bodog.
One game in particular that's getting heavy action is the Maaco Las Vegas Bowl on Dec. 22nd between Oregon State (-3) and BYU. Bodog's bettors appear to have been impressed by the Beavers in their tight loss at Oregon in the Civil War.
Instant $250 Free Bonus Bet from Bovada -
CLICK HERE
OSU had a league-high seven players named to the all-Pac 10 first team, including running back Jacquizz Rodgers and quarterback Sean Canfield, who threw for more than 300 yards in four of his last six games, with just two interceptions over that stretch.
BYU may have been a BCS-buster early on in the season, but were beaten badly in both those defeats by Florida State (54-28) and TCU (38-7).
Pitt (-3) versus North Carolina in Meineke Care Bowl in Charlotte is another bowl game that's getting a lot of action. The Panthers (9-3) lost a heart-breaker to undefeated Cincinnati on Dec. 5 and will essentially be the road team in this game against an 8-4 Tar Heels team that could best be described as inconsistent. UNC beat a bunch of good teams this season in Virginia Tech, Miami, and Boston College, but also lost to a couple of bad teams in Virginia and NC State.
Boston College (+9) versus USC in the Emerald Bowl in San Francisco is yet another big bowl game for our bettors. The Trojans always seem to bring in the big money, but an 8-4 side that's lost three of its last five will no doubt test loyalties. That said, the Eagles (8-4) haven't really beaten anyone of note this season. In fact, none of their five ACC victories came over sides that finished with a winning record.
Last up for this first batch of big bowl games is Georgia and Texas A&M in the Independence Bowl (Shreveport, LA). The Bulldogs (7-5) suffered through a tough schedule and in the end lost more games this season than they have in the past nine seasons. Still, that big upset against Georgia Tech had to have some kind of a positive effect on their confidence level coming into this bowl matchup. Although not quite as impressive, the Aggies (6-6) nearly pulled off a similar rivalry upset when they gave Texas a scare two days earlier.
I will be posting weekly articles including betting previews, matchups and the inside scoop from a bookmakers point of view right here at Doc's Sports. Read my past articles - Click Here, and learn more about Bodog sportsbook - click here. If you're ready to set up an account and start playing I'd like to offer you a Sign up Bonus - Click Here. Enjoy the Bodog Experience.