No. 1 Florida vs. No. 4 LSU: Betting on College Football's Elite
by Richard Gardner | Bookmaker, Bodog Sportsbook - 10/7/2009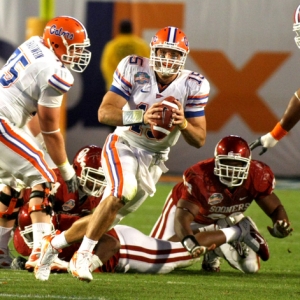 When the No. 1 Florida Gators (4-0) visit Baton Rouge to take on the No.4 LSU Tigers (5-0), college football bettors had better prepare for a battle. With two of college football's elite programs going toe-to-toe, one team will nonetheless walk off the field with its first loss of the season.
The Gators opened as high as 11.5-point favorites on Sunday, with the line bet down to 8.5 at most sports books by Monday. That Florida is a big favorite on the road in one of the toughest places to play in all of college football is testament to both the strength of its team, which features the incomparable Tim Tebow at quarterback, as well as the support the Gators receive from bettors. In cases like this, it's best to play it safe.
Instant $250 Free Bonus Bet from Bovada -
CLICK HERE
Plenty of money came in on the Tigers after the opener to send the number down, a phenomenon that closely resembled last weekend's spread between Alabama and Kentucky. In that case, we opened the Tide (another side that receives heavy bettor support) as 17-point favorites, after which the line was bet down to 16.5, and then again down to 16. When we got to 16, we saw buy back on Alabama and ended up closing the game at 16.5.
The Tide ended up defeating the Wildcats 38-20, so whether 'Bama backers got in at 16 or 17 didn't matter in the end. But you never know when a point is going to make a difference. Bettors will want to keep a keen eye on the number in the Florida-LSU showdown. If it goes any lower, expect a flood of money on the Gators, so get in there quick or you might miss out before the number bounces back.
It will be interesting to see how bettors will treat No. 6 Boise State (5-0) on the NCAA futures board once the Florida-LSU game is over. With one fewer undefeated team, will more bettors take a chance on the Broncos at 10/1? Looking at their schedule you have to think an undefeated season is highly likely.
And as a side note to all those sports bettors who may be wondering if we ever take a hit over at Bodog - I can tell you that we have. In fact, we took a big one in Saturday's Penn State-Illinois affair, which opened with the Nittany Lions favored by 6.5. Action from both recreational bettors and the sharps pushed the line to 8 and Penn State went on to hammer the Illini 35-17.
I will be posting weekly articles including betting previews, matchups and the inside scoop from a bookmakers point of view right here at Doc's Sports. Read my past articles - Click Here, and learn more about Bodog sportsbook - click here. If you're ready to set up an account and start playing I'd like to offer you a Sign up Bonus - Click Here. Enjoy the Bodog Experience.