Bookmaker's Corner: Big Questions for Big Ben
by Richard Gardner | Bodog Sportsbook Manager - 12/9/2009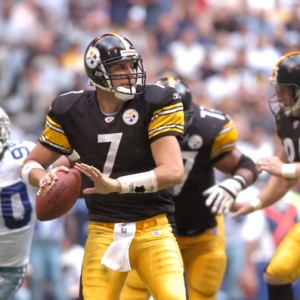 The defending Super Bowl champions have lost four straight and were recently belittled by the Oakland Raiders at home. How much more patience will NFL bettors show with the Pittsburgh Steelers? That's the big question we're wondering at Bodog as we set the lines for Week 14. Bettors, on the other hand, will likely have other questions for Big Ben and the boys.
Big questions like… What's with Ben Roethlisberger (and playing with a concussion)? What if Pittsburgh misses the playoffs?
Instant $250 Free Bonus Bet from Bovada -
CLICK HERE
Mathematically speaking, the Steelers' playoff hopes aren't dead yet. This Thursday they're in Cleveland playing the Browns (1-11). And while four losses in a row is a tough pill to swallow, the Browns have lost seven straight (though to their credit they've managed to cover their last three).
Most books have the Steelers by 10, but should they really be double-digit road favorites against any team in the NFL?
As for the team that just shocked the Steelers, it seems the Raiders are a better team with Bruce Gradkowski at quarterback. Since taking over the starter's role from JaMarcus Russell, the 26-year-old Toledo product has led the Silver and Black to wins over Cincinnati and Pittsburgh.
Oakland hosts a much-improved Washington Redskins team on Sunday, which could prove to be a very tight matchup. The 'Skins came oh-so-close to knocking off the undefeated Saints in Week 13 and have covered their last four spreads. The one thing you do worry about is whether or not Washington, which is favored by a point over the Raiders, can keep losing heartbreakers without also losing their desire to come out and compete hard.
One thing to keep in mind is that Washington may also be looking ahead to Week 14 and 15 when it could play spoilers against the Giants and Cowboys.
Speaking of the Giants (7-5), the G-Men will host a huge NFC East battle this Sunday night against Philadelphia (8-4). A New York win combined with a Dallas (8-4) loss to the red-hot Chargers would result in a three-way tie atop the NFC East with three weeks to play.
And just like that, all of those burning questions about the Pittsburgh Steelers aren't quite as pressing.
I will be posting weekly articles including betting previews, matchups and the inside scoop from a bookmakers point of view right here at Doc's Sports. Read my past articles - Click Here, and learn more about Bodog sportsbook - click here. If you're ready to set up an account and start playing I'd like to offer you a Sign up Bonus - Click Here. Enjoy the Bodog Experience.