Bookmaker's Corner: Tim Tebow's Final Bowl Game
by Richard Gardner | Bodog Sportsbook Manager - 12/23/2009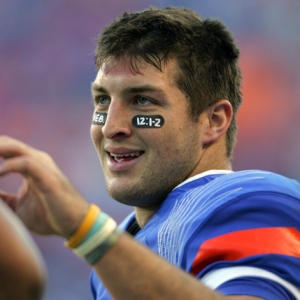 College football betting heats up this week as Florida and Cincinnati get warmed up to play in the Sugar Bowl. With so many angles to play, this game will be a very interesting one for online sportsbook bettors to jump on.
Over at Bodog Sportsbook, the Gators (12-1) opened as 10.5-point favorites and have since moved to 11. The loss to Alabama in the SEC Championship was a tough one to swallow, but neither the team nor the coach have given any indication that their motivation level will wane - despite even more bad news: senior kick-return specialist Brandon James will be out of the game and undergoing surgery on his right foot. Coach Urban Meyer says he's still got two good return guys in Chris Rainey and Jeff Demps.
Instant $250 Free Bonus Bet from Bovada -
CLICK HERE
"James is a heckuva player, especially in the return game," Meyer told the Orlando Sentinel. "The good thing is, Rainey and Demps are also very capable guys. I'm excited to watch them go get it."
Let's not forget that this Sugar Bowl game marks Tim Tebow's final game as a college athlete; that alone should help fuel Florida's motivation…but will that be enough?
Florida better hope it's more excited for Cincinnati than its fans. As of last week, there were still 5,000 of the school's allotment of 17,500 tickets waiting to be purchased. Sure sounds like it was national championship or bust for Gator Nation.
As for Cincinnati, how will the Bearcats play without the help of the coach that led them to a 12-0 record? Brian Kelly is headed to Notre Dame and his replacement, Butch Jones, isn't really taking part in the Sugar Bowl prep. So it'll be up to interim coach Jeff Quinn to get the job done. Of course, Quinn was just hired to coach Buffalo next season, so what's his motivation?
Oh, and how good is Cincinnati anyway? Are they like the aforementioned Utah side that embarrassed Alabama last year in the Sugar Bowl? Or, are they more like the 12-0 Hawaii team from two years ago that got smoked by Georgia?
We're treating Cincinnati more like the former at Bodog.
I will be posting weekly articles including betting previews, matchups and the inside scoop from a bookmakers point of view right here at Doc's Sports. Read my past articles - Click Here, and learn more about Bodog sportsbook - click here. If you're ready to set up an account and start playing I'd like to offer you a Sign up Bonus - Click Here. Enjoy the Bodog Experience.