Bookmaker's Corner: Week 11 NFL Football Betting
by Richard Gardner | Bodog Sportsbook Manager - 11/17/2009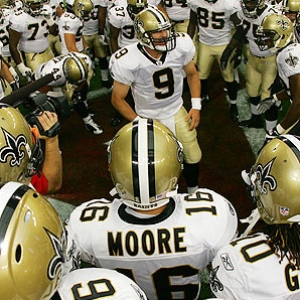 With underdogs dominating yet again, it was another good week for NFL football betting over at Bodog Sportsbook.
The St. Louis Rams kept it close with the Saints, which means the Saints have failed to cover their last three games, all of them double-digit numbers, after winning six straight spreads to start the season. In fact, the Saints have seen their point total fall in four consecutive weeks since putting up 48 versus the Giants on Oct. 18. It'll be interesting to see how football bettors react this week when the Saints head to Tampa Bay to play the 1-8 Bucs.
Instant $250 Free Bonus Bet from Bovada -
CLICK HERE
Bettors still have tremendous faith in the Saints, and that's why we're still giving the Bucs 11 points at home. We know we'd get buried with New Orleans action if we gave any less.
Another big win for the book came with the Panthers beating the Atlanta Falcons as small home dogs. That's three straight wins against the spread for Carolina. Jake Delhomme is also on a bit of a roll, posting three straight interception-free games.
If Delhomme continues to take care of the ball and Carolina keeps running it for 200 yards per game, give or take, Miami will have a tough time beating them on Thursday. We'll have the Panthers favored by -3.
The Giants and Falcons is another game we'll be keeping a close eye on. Michael Turner's playing status is of particular interest to us, so after we post the number we'll have to carefully monitor how our many Giants bettors treat a team that's lost four in a row.
The G-Men will be expected to bounce back, especially after coming off a bye week.
I will be posting weekly articles including betting previews, matchups and the inside scoop from a bookmakers point of view right here at Doc's Sports. Read my past articles - Click Here, and learn more about Bodog sportsbook - click here. If you're ready to set up an account and start playing I'd like to offer you a Sign up Bonus - Click Here. Enjoy the Bodog Experience.