Bookmaker's Corner: NFL Betting: Big Surprises, Bigger Disappointments
by Richard Gardner | Bookmaker, Bodog Sportsbook - 10/8/2009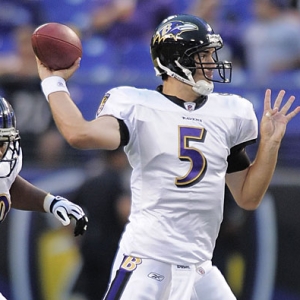 Now that we've got those first few weeks of NFL betting under our belts, the rest of the season should be nothing but smooth sailing, right?
Wrong.
When it comes to betting on football, be it professional or college, it's that you have to expect the unexpected. And just to throw another cliché at you - you also have to learn to take the good with the bad.
Instant $250 Free Bonus Bet from Bovada -
CLICK HERE
Take bettors who had their money on the Bengals, for example. Last weekend the Cleveland Browns covered the spread with their 23-20 overtime loss to Cincinnati. That was good news for us over at Bodog as we were forced to push the line from Bengals -6 to -7 thanks to all the money coming in on Cincy after its 2-1 start - but not so much for anyone who bet on the Bengals.
It will be interesting to see if there will be enough support for the Bengals when they meet up with the Baltimore Ravens (3-1), a team that started off the season as one of the big surprise stories - right up until they lost to the Patriots. Having said that, I wouldn't expect the Ravens to be feeling too charitable. We opened at Baltimore -8.5 but have seen numbers as low as -7.5 and as high as -9.5 at other books.
Another big surprise team this season, this one for losing and not winning, is the Tennessee Titans (0-4). Bettors obviously expected them to come up with a big effort against Jacksonville on Sunday in what could only be considered a must-win for the team that finished with the best record in the 2008 regular season. Over at Bodog we opened the Titans as 3-point road favorites and then watched as the money rolled in on Tennessee. Instead of moving off a key number, however, we moved the money line to -130. And instead of coming up with a big effort, the Titans fell 37-17 to the Jags.
For Titans fans, that had to hurt. And for bettors who may have been waiting for Tennessee to bounce back, that has to be disappointing.
For all of us over at Bodog, we take note and move on: we've opened the Titans as 3.5-point underdogs this Sunday at home to Indianapolis and have since moved the number to 4. Also influencing the point spread is the fact the Colts are coming off back-to-back thrashings of Arizona and Seattle and have built up solid betting support. This is when we see recreational bettors out in droves, all of them just itching to get behind Peyton Manning, especially when Manning is facing a team in a downward spiral.
Another big disappointment on the season thus far has been the play of the Washington Redskins. In their game against the Tampa Bay Buccaneers we saw the number move from Washington -8 to -9 before Sunday's game at FedEx Field, we also saw bettors backing a team that should've been highly motivated to win back the love of its fans. The 'Skins won but didn't cover with a 16-13 victory.
I will be posting weekly articles including betting previews, matchups and the inside scoop from a bookmakers point of view right here at Doc's Sports. Read my past articles - Click Here, and learn more about Bodog sportsbook - click here. If you're ready to set up an account and start playing I'd like to offer you a Sign up Bonus - Click Here. Enjoy the Bodog Experience.