Bookmaker's Corner: AFC Championship Game Odds
by Richard Gardner | Bodog Sportsbook Manager - 1/19/2010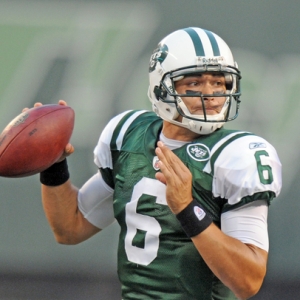 The New York Jets are off to the AFC Championship where they'll meet up with the Indianapolis Colts in Indianapolis. So it's Mark Sanchez vs. Peyton Manning, is it? I don't know about the rest of you, but this is not exactly the matchup I envisioned when we set our odds to win the AFC Championship.
Then again, we had the San Diego Chargers by more than -8 against New York last week.
Instant $250 Free Bonus Bet from Bovada -
CLICK HERE
Over at Bodog Sportsbook we opened the Colts at -7 but heavy action on Indy has since moved the line, currently making them 8-point favorites in Sunday's AFC Championship Game in Indianapolis. (Note: the book won on the moneyline and the under in the Baltimore-Indy game, but lost a big decision on the -7 Indy spread making this a good winner for Bodog's players.)
Everyone likes Peyton Manning, though. Even with a 7-point spread they still believe the Colts can put up big numbers against the Jets. Come game time, we expect to see relatively balanced action on this matchup. As mentioned, the Colts have always been popular with our bettors, but the Jets have a huge New York audience that will be supporting them with both their hearts and wallets. And for good reason, too: New York covered seven of its last eight games dating back to the regular season.
The Jets are still the long shot to win the Super Bowl at 13/2 odds, whereas the Colts are the favorites to win it all at 6/5.
But hey – if you're looking to have a little more fun with what's left of the postseason, take a closer look at Bodog's football "Exact Result of the 2010 Super Bowl XLIV" futures for the Jets; New York is at 15/1 odds to beat the Minnesota Vikings, and 19/2 odds to beat the New Orleans Saints.
I will be posting weekly articles including betting previews, matchups and the inside scoop from a bookmakers point of view right here at Doc's Sports. Read my past articles - Click Here, and learn more about Bodog sportsbook - click here. If you're ready to set up an account and start playing I'd like to offer you a Sign up Bonus - Click Here. Enjoy the Bodog Experience.