Betting on the NFL Draft
by Richard Gardner | Bodog Sportsbook Manager - 4/22/2010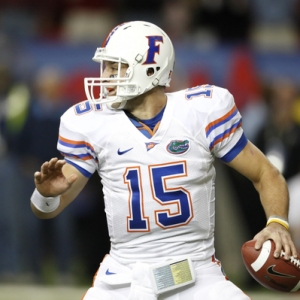 Fear not, football betting enthusiasts – you're receiving a reprieve from the offseason blues tonight as the NFL Draft takes center stage at Radio City Music Hall in New York City.
Oddly enough, the big story so far as NFL draft props are concerned might not even involve a player that's selected in the first round. Where will Florida quarterback and college football superstar Tim Tebow be chosen? That's what most of the players at Bodog seem to be interested in.
Instant $250 Free Bonus Bet from Bovada -
CLICK HERE
The -190 favorite for Tebow's draft range is anywhere from 30th to 50th, with 1-29 at +110 and 51st or higher at +250. For what it's worth, we opened the betting for 1-29 at +120, then moved to +110 when the action forced our hand.
The opinions on Tebow are wide and varied, but I really liked what Todd McShay, director of college football scouting for ESPN Scouts Inc., had to say: "I think you have to draft players in the first two rounds that have legitimate shots at being a starter right away. And with Tim Tebow, at least in my opinion, you're talking about at least three years before he's ready to compete for a starting job at quarterback."
We'll have to see if NFL general managers agree with that assessment, or if there's one out there who's willing to take a shot on Tebow early.
As far as Bodog is concerned, all I can say is that NFL draft betting is always a curious affair. While teams are more concerned about getting the best players available at all sorts of positions, particularly the non-flashy ones like offensive line, fans are more curious about where the college stars they watched every Saturday are selected. More specifically, where the quarterbacks are selected.
The Tebow draft prop is getting the most action at Bodog, but there's also heavy interest in where Jimmy Clausen ('over/under' selection no. 9.5) and Colt McCoy ('o/u' 38.5) will be chosen.
We've also got props on which NFL analysts will have the most correct picks in their mock drafts. At SI, Don Banks (-135) is favored over Peter King (-105); Mel Kiper Jr. (-125) has a slight edge over the aforementioned McShay (-115) at ESPN.com; and at CBSsports.com, it's Clark Judge (-130) over Pete Prisco (-110).
One other interesting bit of NFL draft odds news: The over/under for the number of running backs selected in the first round is a measly 1.5, although the over pays out just -400.
I will be posting weekly articles including betting previews, matchups and the inside scoop from a bookmakers point of view right here at Doc's Sports. Read my past articles - Click Here, and learn more about Bodog sportsbook - click here. If you're ready to set up an account and start playing I'd like to offer you a Sign up Bonus - Click Here. Enjoy the Bodog Experience.