Bookmaker's Corner: NFL Futures & Big Ben Betting Props
by Richard Gardner | Bodog Sportsbook Manager - 5/5/2010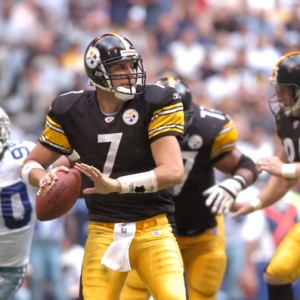 Poor Ben Roethlisberger. He's not having a very good time of things, is he?
At the risk of piling on, we've created a fun NFL prop at Bodog: "What will Ben Roethlisberger do first?" The options are as follows: Get married (20/1); Father a child (20/1); Win the Super Bowl with the Pittsburgh Steelers (12/1); Leave the Pittsburgh Steelers (4/5); Go to prison (100/1); or, None of the Above (11/10).
Personally, I like "Leave the Pittsburgh Steelers." I know, it's not the most daring choice, but the Rooney family can't be enjoying all this negative attention. As owners of the team, they won't be putting up with much more from Big Ben. Frankly, they might've had enough already.
Instant $250 Free Bonus Bet from Bovada -
CLICK HERE
In a related story, we've got another NFL prop that relates to the Roethlisberger suspension: "Who will start at quarterback for the Pittsburgh Steelers in the first 2010 NFL regular season game?" The current favorite is Bryon Leftwich (-180), followed by Dennis Dixon (+160) and Charlie Batch (+700).
According to Pittsburgh coach Mike Tomlin, Leftwich has done a good job so far.
"Byron is a sharp guy," Tomlin said. "He has reacquainted himself to our environment rather quickly, interacting with teammates, understanding the offensive concepts, being able to communicate those things.
"He's doing a nice job, as are the other guys. We got a long process here for the rest of the off-season. We're looking forward to watching those guys work and find rhythm with receivers and so forth, and just continuing to grow."
As for when an actual starter might be named? Not too soon.
"There will be a time, but it won't be a time in the near future," Tomlin said. "There's no need for it to be."
We've also posted a regular-season win total for the Pittsburgh Steelers on our NFL team props board. The total is 8.5 and the action has been fairly balanced so far. With all their problems, the Steelers' don't have the toughest strength of schedule in 2010. Two games against Cleveland, plus matchups with Tampa Bay, Oakland, and Carolina – it could be worse.
The Browns' win total has been set at 6.5, with most of the action coming in on the under. Cleveland's already a bad team and it doesn't help that it'll be playing the Jets, Patriots and Saints in 2010.
I will be posting weekly articles including betting previews, matchups and the inside scoop from a bookmakers point of view right here at Doc's Sports. Read my past articles - Click Here, and learn more about Bodog sportsbook - click here. If you're ready to set up an account and start playing I'd like to offer you a Sign up Bonus - Click Here. Enjoy the Bodog Experience.