Bookmaker's Corner: Final Four Props
by Richard Gardner | Bodog Sportsbook Manager - 3/31/2010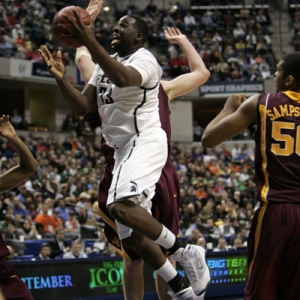 Butler, Michigan State, Duke and West Virginia are all that's left of our 2010 NCAA Men's Basketball Bracket. Add to that a healthy offering of Final Four props and you'd be correct in assuming that we are extremely excited about this year's Final Four betting at Bodog's online sportsbook.
Instant $250 Free Bonus Bet from Bovada -
CLICK HERE
There are some really good stories coming out of the tournament, with all four teams making for compelling viewing and (we hope) plentiful wagering.
A Duke-Butler final would make for a fairytale ending since I'm not sure you could write a better storyline than a Cinderella team playing at home against the mighty (and hated by many) Blue Devils. But if you ask Bodog's oddsmakers, a Duke-Butler final is actually the most likely match-up. We've got the Bulldogs by 1.5 over Michigan State and the Blue Devils by 3 over West Virginia.
I expect most of the action on the favorite in each of the semifinal games. Not only has Butler won 24 games in a row, the Bulldogs will have home-field advantage at the RCA Dome in Indianapolis. Plus, there's the whole Cinderella factor. There are certain teams that captivate the public's imagination. In the first few rounds, bettors loved Cornell. Now, everyone loves Butler. We'll have to wait and see for certain if everyone loves the Bulldogs enough to bet on them, but I'm not worried about getting offside with Michigan State money.
That said, Michigan State will be making its sixth Final Four appearance since 1999. Coach Tom Izzo knows what he's doing, even if the Spartans will continue to play without star guard Kalin Lucas. I can see a few of our sharper players being intrigued by a scenario where a team with the pedigree of Michigan State Is an underdog to a team that spent the season beating up on the Horizon League.
Moving on, Duke should be able to draw significant betting interest in the semifinals as well, especially by just 3 points over the Mountaineers. The Blue Devils have beaten some very good teams in this tournament and their narrowest margin of victory was 7 points (over Baylor in the Elite 8).
West Virginia, on the other hand, is a tough team to get behind for many bettors. The Mountainers tend to rely on defense and rebounding to get the job done. However effective that style of play may be, it doesn't exactly make for compelling TV. And you know we'll all be watching this one.
I will be posting weekly articles including betting previews, matchups and the inside scoop from a bookmakers point of view right here at Doc's Sports. Read my past articles - Click Here, and learn more about Bodog sportsbook - click here. If you're ready to set up an account and start playing I'd like to offer you a Sign up Bonus - Click Here. Enjoy the Bodog Experience.