Bookmaker's Corner: March Madness Wrap-up
by Richard Gardner | Bodog Sportsbook Manager - 4/7/2010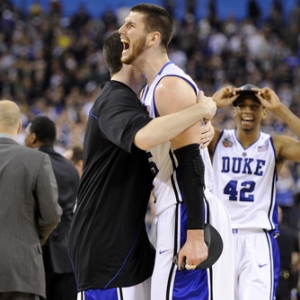 The 2010 NCAA men's basketball tournament wrapped up rather nicely for Duke on Monday night with a 61-59 victory over Butler. From the book's perspective, it was a great way to end a great tournament.
As is fairly common for big games, most of the action was on one of either the favorite to cover the spread or the underdog to win outright. In this case, Duke didn't cover the 7-point spread and Butler didn't win outright (+280) and that gave way to an overall good result at Bodog's online sportsbook.
Instant $250 Free Bonus Bet from Bovada -
CLICK HERE
That's not to say the players didn't get their share of victories during March Madness. That goes double for Baylor backers, who took the book for two nice chucks in healthy wins over Saint Mary's and Old Dominion.
In what was a very evenly-matched field, the seedings didn't mean as much as they normally do. Case in point, nine double-digit seeds won their opening-round game and three of them advanced to the Sweet 16. Heck, a couple of No. 5 seeds made it the Final Four.
Only one team, Kansas, was considered close to a sure thing to go deep, and the Jayhawks lost to Northern Iowa on the third day of the tournament.
We were equally stunned at some of the big upsets and just tried to keep the action as balanced as possible, not wanting to get too offside on any one game.
One thing that's becoming more and more obvious at sportsbooks everywhere is how well-educated bettors are getting in the Internet age.
Think about how difficult it was to find information on schools like New Mexico State and Old Dominion before you could just punch their names into Google and read what the local papers were writing about them.
Now that bettors have so much more information at their disposal, they are better equipped and therefore more comfortable betting on underdogs than they have been in the past. This is somewhat balanced by the fact that the bigger programs can be built up by the media to higher and higher levels, occasionally defying logic.
But for bettors who can differentiate between hard information and hype, the information highway can be a road to profitable wagering. And on that note, here's to another fantastic championship.
I will be posting weekly articles including betting previews, matchups and the inside scoop from a bookmakers point of view right here at Doc's Sports. Read my past articles - Click Here, and learn more about Bodog sportsbook - click here. If you're ready to set up an account and start playing I'd like to offer you a Sign up Bonus - Click Here. Enjoy the Bodog Experience.