Bookmaker's Corner: NBA Betting Lines, Odds & Bucks
by Richard Gardner | Bodog Sportsbook Manager - 3/24/2010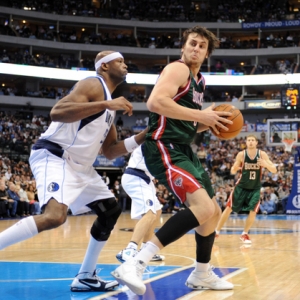 Do me a favour and forget about the NCAA tourney for a couple of minutes and turn your attention towards NBA betting. No, the Los Angeles Lakers have not tanked (they've been enjoying a fairly easy schedule as of late); and yes, the Cleveland Cavaliers signed center Zydrunas Ilgauskas (after trading him to Washington about a month ago). Here's the thing: despite all the bracket busting going on in college basketball, there is still plenty of great NBA betting action to load up on this week.
Instant $250 Free Bonus Bet from Bovada -
CLICK HERE
Starting with tonight's matchup between the Los Angeles Lakers and the San Antonio Spurs, you've got two good teams, a late start time and ESPN carrying the contest nationally. That should tell you that Bodog's online sportsbook will be ready with its betting lines.
On Sunday, those same Spurs are in Boston to take on the Celtics in another ESPN game. The NBA will be up against two Elite 8 NCAA tournament affairs that day, so we'll have to wait and see how much attention bettors will pay to this one.
I'll admit the NBA's less-than-enticing playoff race at the moment pales in comparison to this year's March Madness meeting, but that doesn't mean you can't multitask and make the most of the situation. From our point of view, it will be interesting to see if any of this will affect betting handle in the time before the playoffs start.
And about those NBA playoffs…the Eastern Conference has five teams fighting for the last four postseason spots, but those five teams are Milwaukee, Miami, Toronto, Charlotte and Chicago. The Heat and the Bulls always draw decent action, but the other three are average attractions at best. The Bulls have won two straight, snapping a 10-game losing streak; and Miami has to keep pace with Milwaukee as only four games separate 5th and 8th in the competitive Eastern Conference.
Meanwhile, out in the West, Memphis or Houston would have to go on a pretty good run to reign in one of Portland, Oklahoma City or San Antonio for the last playoff position.
Perhaps the real drama will come in the race for playoff seeds. Let's face it, nobody wants to face the Cavaliers or the Lakers in the first round, and at the moment, there are a bunch of teams in each conference in jeopardy of finishing eighth.
As far as the futures market is concerned, one wager that I'm surprised hasn't produced more action than it has is the Milwaukee Bucks at 45/1 to win the Eastern Conference. The Bucks have gone 27-12 in 2010, or 21-5 since Jan. 26 and 15-2 since Feb. 17. That has to be worth some amount of respect.
At 45/1 odds to win the Eastern Conference, that's not a bad bet; and at 100/1 odds to win the 2010 NBA Championship, you know there's some good money to be made if Milwaukee can magically pull this one out of the hat.
I will be posting weekly articles including betting previews, matchups and the inside scoop from a bookmakers point of view right here at Doc's Sports. Read my past articles - Click Here, and learn more about Bodog sportsbook - click here. If you're ready to set up an account and start playing I'd like to offer you a Sign up Bonus - Click Here. Enjoy the Bodog Experience.