NBA Opening Night Betting Recap: Boston Celtics vs. Miami Heat
by Richard Gardner | Bodog Sportsbook Manager - 10/27/2010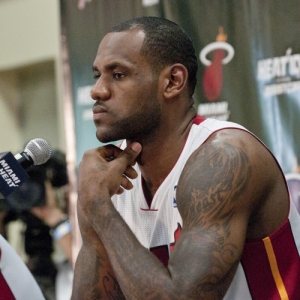 The Boston Celtics defeated the Miami Heat on Tuesday night in Beantown. The final score was 88-80 and suggested that the team that features LeBron James, Dwyane Wade and Chris Bosh might take some time to develop some chemistry and rhythm. The game, from a big-picture perspective, suggested another thing: NBA bettors are pumped for the 2010-11 season.
For Bodog, this was a huge regular-season basketball game in which the betting reached playoff levels. So far as handle was concerned, it blew away last year's opener between the Celtics and Cavaliers. In fact, it blew away any regular-season game from 2009-10.
We opened Celts-Heat as a pick-em, but were soon flooded with action on the visitors, forcing the number to Miami -1. When the same action kept rolling in, we eventually had to move to -2. At that number, we finally saw some Boston buyback, moved to -1.5, cut down our exposure, and went into the game fairly balanced. The players did, however, do well on the total, which went under 188.
Instant $250 Free Bonus Bet from Bovada -
CLICK HERE
As you might imagine, we're pretty excited about the upcoming NBA season. We're quite confident it's going to be our biggest yet. There's just so much anticipation out there among fans and bettors. And not just because of the Heat. The Celtics, Magic, and, of course, defending-champion Lakers also have high expectations and are no doubt being fuelled by a desire to beat the Heat, who many handed the NBA title as soon as the Big Three were signed, sealed and deliver.
And that's not all. There's Kevin Durant in Oklahoma City. There's a Dallas team that may be running out of time to get it done.
If there was one concern I had about the season it would be the lack of parity in the league. How many teams have a legitimate shot at a title? According to Bodog's odds to win the 2011 NBA championship, only seven are at or below 20/1. Compare that to our NFL odds to win the Super Bowl, where the number of teams is 10.
It remains to be seen whether or not interest in non-contending cities will fall off as the season wears on and the novelty of the new-look Heat wanes. All I know is, at this point, the excitement levels are at unprecedented levels.
The Heat travel to Washington on Wednesday before hosting the Orlando Magic on Friday night in what should be another huge game for us. The Heat-Magic contest will be televised on ESPN and that always means big bettor interest. We also hope our players will stick around and wager on the Lakers-Suns game that follows on ESPN.
I will be posting weekly articles including betting previews, matchups and the inside scoop from a bookmakers point of view right here at Doc's Sports. Read my past articles - Click Here, and learn more about Bodog sportsbook - click here. If you're ready to set up an account and start playing I'd like to offer you a Sign up Bonus - Click Here. Enjoy the Bodog Experience.
If you're ready to set up an account and start playing I'd like to offer you a sign up bonus CLICK HERE and enjoy our services.