Bookmaker's Corner: NCAA Tournament Bracket & First Round Betting
by Richard Gardner | Bodog Sportsbook Manager - 3/17/2010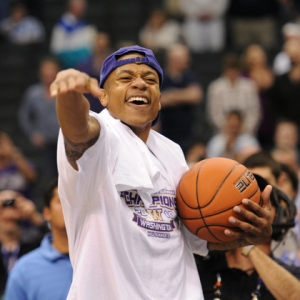 March Madness and the NCAA men's basketball tournament is an insanely hectic time for us over at Bodog's online sportsbook. This year's offerings include a healthy list of NCAA props and NCAA betting lines.
With first round action set to get underway, our bettors like many of the teams that just won the major-conference tournaments. Think of the last few days as network-TV advertising for schools like Washington, Ohio State, Kansas, Duke, West Virginia and Kentucky.
Instant $250 Free Bonus Bet from Bovada -
CLICK HERE
Ranked No. 13 in one preseason poll, the Huskies had a disappointing regular-season campaign in the Pac-10 but then finished up strong by winning 12 of their last 14, including the postseason run that clinched their berth in the dance.
For that, UW received a No. 11 seed and will take on No. 6 Marquette in the first round of the East Region. We've got the Eagles by just 2 points at Bodog and have seen most of the action on the underdog Dawgs. Funny how quickly things can change. A month ago, most people thought UW was headed for the NIT. Now they're putting their money on the Huskies to advance to the second round.
It's probably not just the Huskies' good play of late that accounts for this betting trend; I have to believe a lot of bettors were turned off by Marquette's last performance, an 80-57 thrashing at the hands of Georgetown. Bettors tend to have very short memories and, in Marquette's case, will probably take a wait-and-see approach with a school that can look great one day and awful the next.
Of course, the big question everyone asks around this time is who will be this year's Cinderella? Who will be busting brackets? Well, if our futures bettors got to vote, they'd probably elect either Wisconsin (40/1 to win it all) or Baylor (35/1).
Both teams have played tough schedules in their respective conferences and come away with some impressive victories. As such, both have gotten significant futures support from bettors who see value in their odds compared to, say, Kansas at 9/4.
Still, if you're looking to go far with your NCAA Tournament bracket you may want to rethink your Elite Eight and your Final Four before it's too late.
I will be posting weekly articles including betting previews, matchups and the inside scoop from a bookmakers point of view right here at Doc's Sports. Read my past articles - Click Here, and learn more about Bodog sportsbook - click here. If you're ready to set up an account and start playing I'd like to offer you a Sign up Bonus - Click Here. Enjoy the Bodog Experience.