NFL Football Futures Betting Update
by Richard Gardner | Bodog Sportsbook Manager - 11/24/2010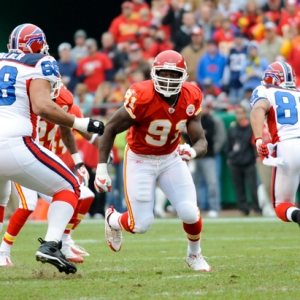 The NFC West might be the worst division in the NFL, but at least the race for first place is interesting. Who will be the lucky bad team to make the playoffs? According to Bodog's NFL futures board, the Seattle Seahawks are the +110 favorites, followed by the St. Louis Rams (+240), San Francisco 49ers (+325) and Arizona Cardinals (+650).
The Seahawks, who lead the division with a pedestrian 5-5 record, have been receiving the majority of the betting action. With four of their remaining six games at noisy Qwest Field, historically a tough place for opponents, our players feel a better-than-even-money return is an attractive option.
Instant $250 Free Bonus Bet from Bovada -
CLICK HERE
The 4-6 Rams have also received some support, though a winless road record with four games remaining away from the Edwards Jones Dome is reason for caution.
As for the 49ers (3-7), well, they might have officially blown their chances on Sunday with a 21-0 home defeat to the Buccaneers. One of the preseason's chic picks to get to the Super Bowl sits two games out first with only two remaining home contests, plus they still have to travel to Green Bay and San Diego where they'll be considerable underdogs.
If you're looking for a big return on your money, it's worth nothing that the Arizona Cardinals (3-7) have the easiest schedule to close out the season, with home games against the 49ers, Rams, Broncos and Cowboys and trips to Carolina and San Francisco. Granted, you'll have to get over the fact that the Cards have lost five straight and Derek Anderson is their quarterback.
Another good divisional race, and one with much better teams involved, is for the NFC South. We'll just forget about Carolina and focus on the 8-2 Falcons (-160), 7-3 Saints (+140) and 7-3 Buccaneers (+1000).
One of the best things going for Atlanta, besides being a very good team, is two remaining games versus the pathetic Panthers.
New Orleans, meanwhile, has to play four times on the road, including a trip to Baltimore, which won't be easy.
Tampa Bay is an intriguing option at +1000 and I'm not surprised that we've booked a few small bets on it. The Bucs made a statement with their aforementioned 21-0 victory in San Francisco on Sunday. Of course, they still haven't beaten a team with a winning record.
I'll leave you with one last team that's seen a bit of action this week and that's the Kansas City Chiefs (6-4) at +175 to win the AFC West. Remember that the Chiefs (6-4) still lead the division by a game over the surging San Diego Chargers (-150). If Kansas City can win in Seattle on Sunday (not the most daunting challenge) and the Chargers lose at Indianapolis (the Colts are 3-point favorites), +175 might look pretty good.
I will be posting weekly articles including betting previews, matchups and the inside scoop from a bookmakers point of view right here at Doc's Sports. Read my past articles - Click Here, and learn more about Bodog sportsbook - click here. If you're ready to set up an account and start playing I'd like to offer you a Sign up Bonus - Click Here. Enjoy the Bodog Experience.