NFL Futures: Betting On the San Francisco 49ers
by Richard Gardner | Bodog Sportsbook Manager - 9/7/2010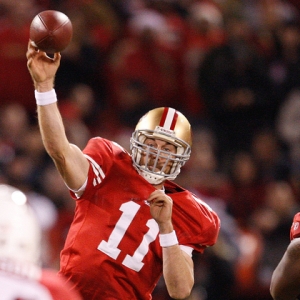 The San Francisco 49ers haven't won the Super Bowl since the 1994 season, which they capped off by demolishing the San Diego Chargers 49-26 in Miami, with quarterback Steve Young being named the game's MVP.
Seems like a long time ago, doesn't it?
It's been a while since San Francisco played in the postseason, too. The last time the 49ers made the playoffs was 2002, which was also their last winning season. Since then, they've put up a combined record of 40-72.
Instant $250 Free Bonus Bet from Bovada -
CLICK HERE
Last year, San Francisco finished 8-8 in a weak NFC West division.
So here's the question: Why do so many of our online sports betting players at Bodog think the 49ers are a good bet to win it all this year?
At 25/1 odds to win the Super Bowl, the 49ers have been one of our most popular futures bets in the run-up to the 2010 regular season.
I'm not entirely certain whether bettors like the odds or the team the most, but what I do know is we're more exposed than we'd like to be.
There's no question the 49ers are the favorites to win the NFC West – in fact, we've got them at -175 to do just that. But what does that really say? Not many bettors expect much from the Rams (+1400) in Sam Bradford's rookie season, or the rebuilding Seahawks (+500) in Pete Carroll's first season as coach, or the Cardinals (+240), who will be starting Derek Anderson at quarterback after Kurt Warner's retirement.
So are the 49ers legitimate contenders or just the best in a bad division? Yes, they've got a good defense. Yes, they can run the ball and have some talent at the skill positions. But even at 25/1 odds, are you willing to bet that quarterback Alex Smith can lead his team to a Super Bowl title?
OK, so the former No. 1 pick had a career year in 2009, but that's hardly saying much. Smith threw for 18 touchdowns and 12 interceptions in 11 games and ended up with a passer rating of 81.5. Although if you ask the 49er coaching staff he's progressing nicely.
"[Smith's] understanding everything that we're trying to do from a protection standpoint and a route standpoint, and it's allowing him to play faster," QB coach Mike Johnson told Sports Illustrated. "That's the biggest difference in him, his total understanding of what we're trying to do. Alex is a very competitive person and he wants to prove to everyone that he was the No. 1 pick for a reason and warrants that type of respect. He has a tremendous amount of self-respect and pride and works harder than anybody I've ever coached. He's growing."
Whether you buy that or not, the 49ers kick off their season on Sunday in Seattle. We've got the visitors by a field goal, with most of the action coming in on the favorites.
I will be posting weekly articles including betting previews, matchups and the inside scoop from a bookmakers point of view right here at Doc's Sports. Read my past articles - Click Here, and learn more about Bodog sportsbook - click here. If you're ready to set up an account and start playing I'd like to offer you a Sign up Bonus - Click Here. Enjoy the Bodog Experience.