NFL Hall of Fame Game Betting Recap
by Richard Gardner | Bodog Sportsbook Manager - 8/13/2010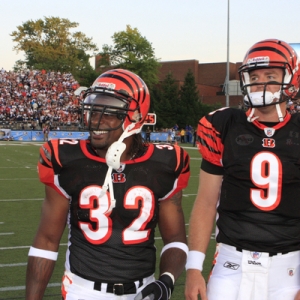 It was by no means a great game, but at least we were betting on NFL football again. The Dallas Cowboys and the Cincinnati Bengals squared off in the 2010 Hall of Fame Game on Sunday in Canton, Ohio. Dallas beat Cincinnati 16-7 as three-point underdogs, which ended up being a good result for the book. The game also went under the total of 33, another win for us.
It's safe to say we won't nail them all like that in 2010, but it was a good start and had everyone at Bodog feeling optimistic about the upcoming year in the NFL. We booked a decent amount of action for the first game of the preseason – about half of what we'd normally do for a regular-season affair. It certainly helped that the game was televised nationally and we won't expect those sorts of numbers for every meaningless game.
Instant $250 Free Bonus Bet from Bovada -
CLICK HERE
The exhibition season is always interesting at a sports book. While the winners and losers in the preseason aren't always the winners and losers in the regular season, the early action can give us a good idea of how bettors will bet once Week 1 is upon us. Which teams are our players excited about? Which ones are they going to avoid? All the information we gather in the preseason helps us set lines that will balance the action once the big money starts rolling in.
The Bengals are a good example of that. Cincinnati games typically garner modest action given the market size and modest history, but with the addition of Terrell Owens to the line-up the Bengals have been in the news a lot more lately. I think that had a lot to do with how the public bet the Hall of Fame Game. There's a lot of excitement around this Cincinnati team, even if the Bengals don't show much themselves on Sunday.
I also expect a lot of preseason action on teams like the Washington Redskins, Pittsburgh Steelers, and Minnesota Vikings. All have been in the news over the summer, for better or for worse, and that gives bettors an angle to play. If there's no angle, there's no urgency to bet. Unless, of course, your favorite team is involved.
The TV schedule is another big factor in the preseason. Most games aren't televised nationally and if bettors can't watch bettors don't bet, particularly the casual sorts. With that in mind, we're looking at most of the action for Week 1 of the preseason to come in on Thursday's Carolina-Baltimore game and Sunday's battle of New York, both of which will be televised on ESPN.
I will be posting weekly articles including betting previews, matchups and the inside scoop from a bookmakers point of view right here at Doc's Sports. Read my past articles - Click Here, and learn more about Bodog sportsbook - click here. If you're ready to set up an account and start playing I'd like to offer you a Sign up Bonus - Click Here. Enjoy the Bodog Experience.