NFL Player Props: Offensive & Defensive Rookie of the Year Award
by Richard Gardner, Bodog Sportsbook Manager - 8/20/2010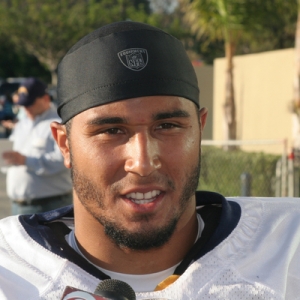 The Associated Press has given out an offensive and defensive rookie of the year award in the NFL since 1967. Among the names to win the award? On the offensive side, Earl Campbell, Eric Dickerson, Jerome Bettis and Randy Moss. On the other side of the ball, there's Lawrence Taylor, Charles Woodson and Brian Urlacher on the winners' list.
Last year, Minnesota WR Percy Harvin and Houston LB Brian Cushing were the offensive and defensive rookies of the year, respectively. Cushing, of course, ended up as a controversial choice, given that he would be suspended for the first four games of the 2010 season after violating the NFL's performance-enhancing substances policy.
Instant $250 Free Bonus Bet from Bovada -
CLICK HERE
Awards are always fun to bet on, because everyone loves to debate them. We've already posted our NFL rookie of the year odds at Bodog, even though the season is weeks away from officially starting.
On offense, the favorite to win rookie of the year is Chargers running back Ryan Mathews at 7/2, followed by Jahvid Best and Dez Bryant, both at 15/2, and Sam Bradford and CJ Spiller, each at 10/1.
Mathews has garnered most of the early action, which isn't surprising considering his spot atop San Diego's depth chart with the departure of LaDainian Tomlinson. In an exhibition game versus the Chicago Bears on Saturday night, Mathews ran for 50 yards on nine carries and caught two passes for 11 yards.
"Ryan's great," coach Norv Turner said. "He said that things slowed down for him as it went on. Obviously he's a guy who can break tackles and he's got great speed."
As you might expect, we've also had decent action on Bradford, the top pick in the NFL draft by the St. Louis Rams. Of course, Bradford hasn't even been named the starter yet, and even if he was, I'm not sure I'd trust the Rams to give him the protection he'll need to be successful. Or, for that matter, provide him with the receiving corps. It's tough enough being a rookie QB in the NFL; that goes double on an awful team. Matt Ryan, Vince Young and Ben Roethlisberger have taken home the award in recent years, so maybe Bradford can do it, too, but for that to happen you have to be betting on the Rams to have a successful season. Are you willing to go that far?
On defense, the co-favorite is DT Ndamukong Suh, who was drafted out of Nebraska by the Detroit Lions. Suh has already been double-teamed in preseason action, so that should tell you something about his potential as a pro.
Eric Berry is the other co-favorite on defense. After that, it goes Gerald McCoy and Earl Thomas at 9/1, followed by Rolando McClain at 10/1.
I will be posting weekly articles including betting previews, matchups and the inside scoop from a bookmakers point of view right here at Doc's Sports. Read my past articles - Click Here, and learn more about Bodog sportsbook - click here. If you're ready to set up an account and start playing I'd like to offer you a Sign up Bonus - Click Here. Enjoy the Bodog Experience