NFL Week 10 Betting Props at Bodog
by Richard Gardner, Bookmaker, Bodog Sportsbook - 11/12/2010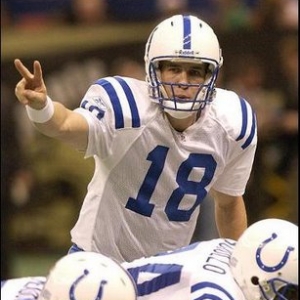 Indianapolis Colts quarterback Peyton Manning has been named the NFL's MVP four times by the Associated Press, and according to Bodog's oddsmakers he's got the best chance of any player to win again in 2010.
Manning is getting 7/2 odds to win NFL MVP, followed by Philip Rivers at 13/2, Aaron Rodgers at 7/1 and Drew Brees as 8/1.
If you noticed that all four MVP favorites are quarterbacks, it's no coincidence. Not only are we talking about the most important position in the game, there have only been two non-QB winners (Shaun Alexander and LaDainian Tomlinson) since 2000 when running back Marshall Faulk won. The rest were quarterbacks.
Instant $250 Free Bonus Bet from Bovada -
CLICK HERE
Manning is certainly deserving of his favorite status. He's led the Colts to a 5-3 start while racking up his usual array of impressive stats (16 TDs, 309.8 yards per game, 96.3 passer rating).
To be fair, Rivers has slightly better numbers (19 TDs, 327.1 YPG, 102.9 rating) than Manning, but the Chargers are only 4-5 when their record should be a lot better considering the schedule they've played. Some of that has to fall on the quarterback.
Both Manning and Rivers have seen their fair share of betting support, but if you're looking for an option with a slightly better payout, Houston running back Arian Foster (10/1) has been another popular pick with our players. The 24-year-old leads the league in rushing yards and touchdowns and has had five games when he's run for over 100 yards.
As for a potential long shot, you have to at least consider Eagles quarterback Michael Vick at 25/1. Even though he missed some time due to injury, his play when he's been healthy has been unsurpassed. He can pass. He can run. And perhaps most importantly, he's been winning. At 25/1, a small wager could pay off big.
A couple of special props to pass along heading into Week 10:
First up, will Jason Garrett be the Dallas Cowboys' coach in Week 1 next season? Unfortunately for Garrett, the odds (Yes +200, No -300) suggest he'll be nothing more than an interim replacement, which is understandable considering the chances of an immediate Cowboys turnaround are pretty slim with Tony Romo on the sidelines. It's safe to say that Garrett has his work cut out if he wants to prove to Jerry Jones that he's the right man for the job.
In a related story, we've posted odds on the future of the departed Wade Phillips. The most likely (-200) option is that he'll be a member of an NFL coaching staff. After that, it's a member of an NCAA coaching staff (+400). And the least likely? Member of a CFL coaching staff, at +2000. (You can also wager on "None of the above" at +150 if you think he'll take a break from coaching altogether.)
I will be posting weekly articles including betting previews, matchups and the inside scoop from a bookmakers point of view right here at Doc's Sports. Read my past articles - Click Here, and learn more about Bodog sportsbook - click here. If you're ready to set up an account and start playing I'd like to offer you a Sign up Bonus - Click Here. Enjoy the Bodog Experience.