NFL Week 14 Betting Props at Bodog
by Richard Gardner | Bodog Sportsbook Manager - 12/10/2010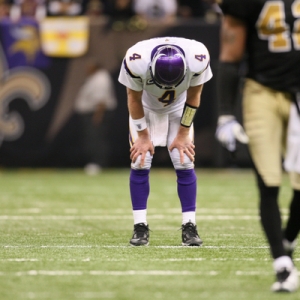 The Minnesota Vikings host the New York Giants on Sunday and it remains up in the air whether 41-year-old Brett Favre will be able to start his 298th straight regular-season game. Interim coach Leslie Frazier maintains it could be a game-time decision on whether or not he goes with Favre, who has an injured shoulder, or Tarvaris Jackson under center.
Which leads us to this question: If Favre starts, how long will he last?
According to Bodog's odds makers, he'll probably (-175) play the entire game versus the Giants, while those who don't think he'll last can get odds of +135. So far most of the bettors have been going with the favored option knowing that Favre has played through pain before, so they believe he can do it again on Sunday.
Instant $250 Free Bonus Bet from Bovada -
CLICK HERE
Perhaps Favre's toughest challenge if he ends up playing will be handling the Giants' deadly pass rush. With that in mind, we've put together a prop on how many times he'll be sacked in Week 14. The total has been set at 2.5. Favre has been sacked three or more times on just four separate occasions this season, but he hasn't faced many teams that get after the quarterback quite like the G-men.
In other NFL quarterbacking news, Arizona's John Skelton is likely to get the start for the Cardinals on Sunday at home to Denver. The Cards are in freefall having lost seven in a row under the guidance of Derek Anderson, so there's not much to lose in going with the rookie.
Skelton completed three of his six attempts for 45 yards in relief of Anderson last week against the Rams. We've set his total passing yards against the Broncos at 195.5 and his total completion percentage at 54.
For those not familiar with the player, Skelton is 22 years old and played his college ball at Fordham. He was drafted 155th overall in 2010 by the Cards.
"He's a big guy, moves well in the pocket," Arizona coach Ken Whisenhunt said. "He's got a good arm. I think we all saw in the first preseason game against Houston (completed 5 of 6 passes for 84 yards) kind of why we liked him. Some of the throws he made. The time throws. The big throws down the field."
One final special prop to mention this week: Will Albert Haynesworth still be a member of the Redskins for the first game of the 2011 regular season? The "No" option is the heavy favorite at -500 while "Yes" is at +300. Haynesworth, of course, was suspended Tuesday for the final four games of the season for "conduct detrimental to the club."
I will be posting weekly articles including betting previews, matchups and the inside scoop from a bookmakers point of view right here at Doc's Sports. Read my past articles - Click Here, and learn more about Bodog sportsbook - click here. If you're ready to set up an account and start playing I'd like to offer you a Sign up Bonus - Click Here. Enjoy the Bodog Experience.