NFL Week 5 Betting Props
by Richard Gardner | Bodog Sportsbook Manager - 10/8/2010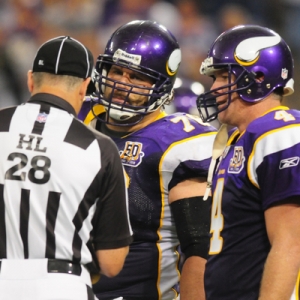 It's been a busy week in NFL news. The big story – besides Brett Favre's privates, that is – involved star wide receiver Randy Moss being traded by the New England Patriots to the Minnesota Vikings. And whenever there's a big story in sports, there are betting props to go along with it.
This week, we've set the total receiving yards for Moss against the Jets at 62.5. Will he go over or under?
Now, 62.5 might seem like a conservative number for a player of Moss's capabilities, but in four games with the Pats this season, the most yards he racked up was 59. Moss may go down as one of the greatest in history, but he's also 33 years old and the consensus around the NFL is that he's lost a step.
Instant $250 Free Bonus Bet from Bovada -
CLICK HERE
On the other hand, Moss did go over 62.5 yards on 10 separate occasions last regular season, and I don't think he lost his abilities over night. Plus, when you look at the Vikings' receiving corps, he'll likely be Favre's number one target.
I also think there's a feeling out there that Moss and Favre will want to make a big splash together. Obviously the Vikings didn't make this trade so that Moss could act as a diversion, which is probably the main reason we've seen such steady action on the over from our bettors. Sometimes you have to look beyond the numbers when you're betting.
In a related prop, how many times do you think Favre will throw to Moss? We've set the receiver's total catches at 4 for Monday's affair. For the record, the most passes Moss has caught in a game this year is 5, although, again, I'm not sure you can compare his situation in New England with what's to be expected in Minnesota. The Vikings traded for Moss to use him.
A couple of related props that should receive a good level of interest this week:
First off, how many yards will Denver QB Kyle Orton pass for in the regular season? We've set the over/under at 4,200. Orton currently leads the NFL in passing yards with 1,419, and the Purdue product has been one of the pleasant surprises so far this season. Orton has never thrown for 4,000 yards in a season – he managed 3,802 last year, his first with the Broncos – but if he keeps up his current pace, he'll easily surpass our total.
Of course, one of the reasons Orton's racked up so many yards through the air is the fact that Denver can't run the ball. The Broncos rank dead last in the NFL in rushing, averaging a measly 55 yards per game. We've set their total this week against the Ravens at 75.5.
I will be posting weekly articles including betting previews, matchups and the inside scoop from a bookmakers point of view right here at Doc's Sports. Read my past articles - Click Here, and learn more about Bodog sportsbook - click here. If you're ready to set up an account and start playing I'd like to offer you a Sign up Bonus - Click Here. Enjoy the Bodog Experience.