College Football Player Props: Odds to Win 2010 Heisman Trophy
by Richard Gardner | Bodog Sportsbook Manager - 7/29/2010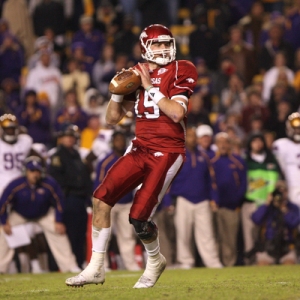 Ohio State quarterback Terrelle Pryor is the 7/2 favorite to win the 2010 Heisman Trophy as college football's most outstanding player. Alabama running back Mark Ingram, who won in 2009, is second at 5/1, followed by Arkansas QB Ryan Mallett (10/1) and Washington QB Jake Locker (11/1).
At Bodog, we've posted Heisman odds for a whole horde of players, but those four are receiving the lion's share of the action so far.
When considering the chances of the two favorites, Pryor and Ingram, it might come down to which team you think will have the better season. Both the Buckeyes and Crimson Tide are expected to compete for a national title. If both players have standout years but only one team goes undefeated, it's easy to predict who the voters will side with.
Instant $250 Free Bonus Bet from Bovada -
CLICK HERE
The one thing that some bettors might be concerned about is Pryor's health. The junior had surgery on his left knee in February, although he contends it was nothing to worry about.
"It was minor surgery," he told The Associated Press a few days ago. "It's never going to be 100 percent ever again for anybody who gets any type of surgery or anything like that. But you should definitely bounce back and be a high percentage and keep going. That's where I am right now, I feel pretty good."
Let's face it, the part where he says his knee is never going to be 100 percent isn't exactly comforting.
As for Ingram, it would be quite the feat to repeat as Heisman winner. The only player to do that was Ohio State running back Archie Griffin, who won back-to-back in 1974 and 1975. But Ingram might have to share carries with sophomore Trent Richardson in 2010, so his numbers might not be there when all is said and done.
What about Mallett and Locker? There's no questioning either player's talent, but the problem there is the teams they play for. At Bodog, we've got Arkansas at 35/1 odds to win the BCS National Championship and Washington at 50/1. In a related story, we've set the Razorbacks' total regular season wins at 8.5 and most bettors have been taking the under. Meanwhile, the Huskies are at just 6.5, with action on the under as well. It's not against the rules to award the Heisman to a player on an average team, but it's one more challenge to overcome.
If you're looking for a long shot, we've had some early action on Florida quarterback John Brantley at 35/1. No more Tim Tebow for the Gators means an opportunity for the 21-year-old. Brantley has a good arm and has played well in his limited time on the field, plus Florida is expected to contend for a national title.
I will be posting weekly articles including betting previews, matchups and the inside scoop from a bookmakers point of view right here at Doc's Sports. Read my past articles - Click Here, and learn more about Bodog sportsbook - click here. If you're ready to set up an account and start playing I'd like to offer you a Sign up Bonus - Click Here. Enjoy the Bodog Experience.