Bookmaker's Corner: Odds to Win the Indy 500
by Richard Gardner | Bodog Sportsbook Manager - 5/26/2010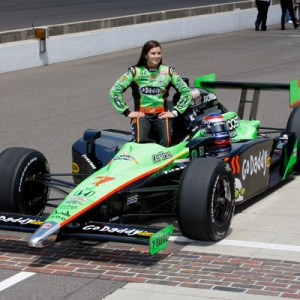 They call it the "Greatest Spectacle in Racing," but it's really not anymore. No, the Indy 500 isn't what it used to be. Still, because of the race's great tradition, it still deserves our respect, and we actually see decent action on the odds to win at Bodog's online sportsbook. It's not to the point where we're making all sorts of creative and wacky props like it's the Super Bowl, but we'll be keeping an eye on the results this weekend.
Instant $250 Free Bonus Bet from Bovada -
CLICK HERE
The heavy favorite for the race should come as no surprise to anyone who follows motor sports, even casually. Helio Castroneves is the defending 500 champion and three-time race winner. (I hear he's also on some dancing show.) Like last year, Castroneves will start from the pole position after an impressive qualifying performance on Saturday. We're giving him 11/4 odds to win the 2010 Indy 500, followed by Scott Dixon (7/2), Dario Franchitti (9/2), Ryan Briscoe (11/2), Will Power (7/1) and Alex Tagliani. Dixon and Franchitti are each former 500 winners.
Of course, besides the actual race, the other big attraction at this year's Indy 500, for better or worse, will be Danica Patrick, who made waves yet again after qualifying for blaming her poor result on the car. "I think it was absolutely awful," she said, talking about the car. "I wasn't flat the last two laps, and I was scared to death flat the first two. And it didn't get better."
The crowd, which could hear her whining over the track's PA system, booed Patrick loudly, to which she responded with the following: "I'm blown away. These people, I mean, I don't know, maybe they all booed me before. I would think that some of them have probably cheered for me before, and I'm not a different driver than I was five years ago."
Patrick will start from the middle of Row 8 and we're giving her 25/1 odds to win. Frankly, her odds are probably worse, but we know people will bet on her just because she looks good in those GoDaddy.com commercials.
One medium shot that you might consider taking a flier on is American Ryan Hunter-Reay at 30/1. Hunter-Reay will start from the middle of Row 6, which isn't ideal, but he did win the Long Beach Grand Prix on April 18.
I will be posting weekly articles including betting previews, matchups and the inside scoop from a bookmakers point of view right here at Doc's Sports. Read my past articles - Click Here, and learn more about Bodog sportsbook - click here. If you're ready to set up an account and start playing I'd like to offer you a Sign up Bonus - Click Here. Enjoy the Bodog Experience.