Bookmaker's Corner: Spurs Take Center Court with NBA Bettors
by Richard Gardner | Bodog Sportsbook Manager - 3/17/2010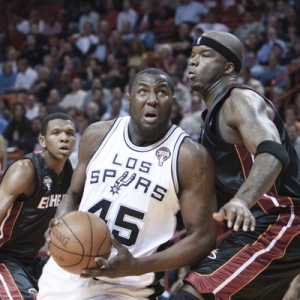 Even with all the college hoops games and the hype that surrounds the NCAA Tournament, we still get plenty of NBA betting action at Bodog's online sportsbook in late March, especially from fans of the teams that are fighting for playoff positioning.
Take the San Antonio Spurs, for example.
We expect significant wagering interest on a number of big NBA games this week, starting on St. Patrick's Day (Wednesday) when the San Antonio Spurs head to Orlando to face the Magic.
Instant $250 Free Bonus Bet from Bovada -
CLICK HERE
The Spurs are a funny team when it comes to betting volume, because even though they've had so much success in recent years they don't have an enormous fan base that wagers on them no matter what. After all, San Antonio isn't a huge market compared to other NBA markets like New York or Los Angeles.
There's also the widely-held belief that the Spurs don't play the kind of run-and-gun style that basketball fans enjoy watching. Outside of people who live in San Antonio, how many diehard Spurs fan do you know? Well, when casual fans don't watch, they're less apt to throw down a wager to make the broadcast a little more interesting. In contrast, we get a lot of action on up-tempo teams like Phoenix (mostly on the "over").
As for the Spurs' playoff hopes, they're decent. All eight teams currently in playoff position in the Western Conference, including San Antonio, are looking good to make the postseason with Memphis and Houston lurking a few games back in ninth and tenth place, respectively. But if there's one team that's got even a slight risk of falling out of contention, it might just be the Spurs, and that should make for some compelling national-TV viewing on Wednesday evening.
The potential collapse of the Spurs, of course, has to do with the recent loss of point guard Tony Parker (broken hand) for what looks to be the remainder of the regular season.
It's always interesting to see how bettors react to star-player injuries. While Parker is important to the Spurs' success, they did win three of their first four games without Parker in the line-up. Besides George Hill, other players may also have to step up if the Spurs hope to keep their playoff hopes alive.
I will be posting weekly articles including betting previews, matchups and the inside scoop from a bookmakers point of view right here at Doc's Sports. Read my past articles - Click Here, and learn more about Bodog sportsbook - click here. If you're ready to set up an account and start playing I'd like to offer you a Sign up Bonus - Click Here. Enjoy the Bodog Experience.