Sportsbook Review of NFL Week 1 Odds
by Richard Gardner, Bookmaker, Bodog Sportsbook - 9/14/2010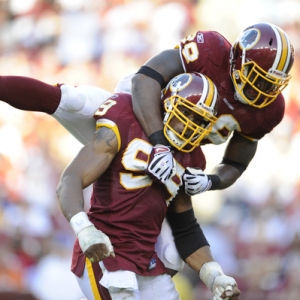 Alex Barron, you're our hero.
The Dallas Cowboys' right tackle took a costly holding penalty that wiped out what would've almost definitely been the game-winning touchdown in Sunday night's game versus the Washington Redskins might not be popular with his teammates, but he's just fine with us. While the 'Skins would've covered the point spread regardless with a 1-point loss, Bodog stood to lose on the moneyline if Dallas had pulled off the last-second victory.
Instant $250 Free Bonus Bet from Bovada -
CLICK HERE
The first week of the NFL season had plenty of thrills and surprises for bettors, some of them profitable, others not so much.
Let's start with a few of the games where the players came out on top. In the morning, it seemed like the whole world was behind Miami (-3) at Buffalo, which the Dolphins covered with a 15-10 victory. It's possible the Bills could be our least bet on team this season. Terrible quarterbacking in a small market is the perfect recipe for that. In fact, just about the only thing Bills fans were looking forward to this season was rookie running back CJ Spiller, who did next to nothing on Sunday.
Another big win for the players came when the Green Bay Packers (-3) went into Philadelphia and beat the Eagles, 27-20. I wrote a lot about the Packers in the preseason and how all signs were pointing to them being a big favorite of the public this season. It will be interesting to see what happens when Green Bay hosts the aforementioned Bills on Sunday. We've got the Pack by 14 at the moment. Will spotting the Bills two touchdowns be enough to draw action on both sides?
The book had a few good wins of its own on Sunday. As usual, the players were all over the Colts, who lost badly to Houston. I don't expect bettors to immediately fall off the bandwagon this week when Indianapolis hosts the Giants, but that run defense has to be a concern.
The San Francisco 49ers' dud in Seattle was another good result for the book. Bettors were all over the big favorite to win the NFC West, but I wonder if the 49ers' dismal performance will give players some pause this week when they host the Super Bowl champs on Monday Night Football. We've got the Saints by 5.5 points, which I don't think would've been the case had Alex Smith and company looked somewhat cohesive at Qwest Field.
Next week, I expect the big game to be Sunday's AFC East clash between the offensively challenged Jets and offensively superior Patriots. The book took a fairly significant loss on the Monday Night game between the Jets and Ravens, so we'll have to be careful on this one.
I will be posting weekly articles including betting previews, matchups and the inside scoop from a bookmakers point of view right here at Doc's Sports. Read my past articles - Click Here, and learn more about Bodog sportsbook - click here. If you're ready to set up an account and start playing I'd like to offer you a Sign up Bonus - Click Here. Enjoy the Bodog Experience