Bookmaker's Corner: Tiger Woods Props & Odds Betting Recap
by Richard Gardner | Bodog Sportsbook Manager - 4/13/2010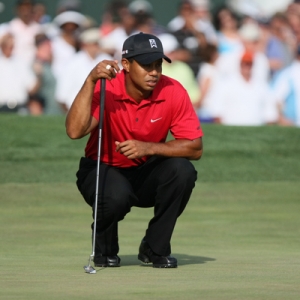 Thank you, Tiger Woods. Thank you for returning to golf after your much-publicized fall from grace. Without your help, Bodog wouldn't have quadrupled its handle on our 2010 odds to win the Masters and experienced the heaviest golf betting we've booked since opening shop all the way back in 1994.
Golf bettors must have been happy to have Woods back as well, even if they didn't win any money when Phil Mickelson pulled on his third career green jacket on Sunday. For many sports bettors, Tiger Woods just makes betting on golf more fun, and, really, that's what sports betting is all about. (That and the winning money part.)
Instant $250 Free Bonus Bet from Bovada -
CLICK HERE
Of course, just because Woods didn't outright win the Masters didn't mean nobody won any money on his performance. Far from it. One of our more popular Tiger Woods props asked where he'd finish on the Masters leaderboard, with anywhere from first to fifth offering 13/8 odds. Well, Tiger finished in a two-way tie for fourth, so that option was a winner for those who chose it.
We created a whole pile of Tiger Woods props for the 2010 Masters, which might go down as the most hyped golf tournament ever. There were props on everything from whether or not Tiger would hit the fairway with his first drive on Thursday (he did) to whether or not he'd have a hole-in-one during the four days of competition (he did not).
Oh, and Tiger wasn't the only story at the 2010 Masters, either. We saw a couple of Brits, Lee Westwood and Ian Poulter, battle at the top of the leaderboard for much of the first major of the year. We also saw a couple of the game's elder statesmen, Fred Couples and Tom Watson, in contention early. All these great storylines contributed to the popularity of our 2-ball and 3-ball betting.
Now that the 2010 Masters is over and done with, all we can do and wait and see when Woods decides to grace another PGA Tour event with his presence. As it stands, it looks like he'll be taking another break from the game.
"I'm going to take a little time off and evaluate where I go from here," Woods said after finishing up on Sunday.
How much time off he'll take is anybody's guess. Tiger's next tournament could be the Players' Championship in May, or maybe he'll wait until the Memorial in early June, two weeks before the U.S. Open at Pebble Beach.
Woods will likely want to sit back and evaluate his performance at the Masters, then go work on his game, which he maintained got even worse as the tournament progressed.
"I finished fourth. It's not what I wanted," said Woods. "I wanted to win this tournament. As the week went on, I kept hitting the ball worse."
He might also want to work on that marriage of his.
In the meantime, we'll be waiting for Tiger once again.
I will be posting weekly articles including betting previews, matchups and the inside scoop from a bookmakers point of view right here at Doc's Sports. Read my past articles - Click Here, and learn more about Bodog sportsbook - click here. If you're ready to set up an account and start playing I'd like to offer you a Sign up Bonus - Click Here. Enjoy the Bodog Experience.