World Cup Odds, Props and Futures Betting
by Richard Gardner | Bodog Sportsbook Manager - 6/3/2010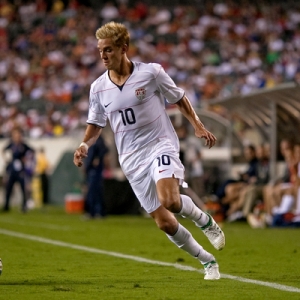 The 2010 World Cup kicks off June 11 in South Africa. With both the NBA and NHL close to crowning champions, this massive event couldn't come at a better time for Bodog's online sportsbook. It's like a special summer bonus for the sports betting industry, which typically has to make do with baseball and golf until September.
We've currently got co-favorites to hoist the World Cup in July, with both Spain and Brazil getting 4/1 odds to win. After those two, it's Argentina (13/2), England (7/1), Holland (10/1), Italy (14/1), France (16/1) and Germany (16/1).
Instant $250 Free Bonus Bet from Bovada -
CLICK HERE
We've had fairly balanced action on Spain and Brazil, with the latter receiving slightly more over the past few days. Brazil has been an extremely popular bet among our casual soccer fans who perhaps equate soccer to Brazil like people equate hockey to Canada and rugby to New Zealand. Spain has been more popular with our regular soccer bettors, who I assume follow the game closely. Not sure what that says, other than our regular bettors probably know that Spain won the European Championship in 2008. Casual fans might only see that Spain has never won the World Cup and assume the trend will continue.
As for the rest of the front-runners, the one I really wonder about is England. I think there's a chance the Three Lions could be overvalued simply because they're England and everyone's always talking about them. You never get great futures odds on the New York Yankees, either.
The fact is that England hasn't appeared in the World Cup finals since 1966, when it won its only title ever. It got to the semi finals in 1990, but that's it. And unlike Spain's success at Euro 2008, England didn't even qualify for that tournament.
On top of all that, FIFA ranks England eighth in the world, so why should it get the fourth-best odds? If you're going to get behind a good soccer nation that's never won the World Cup, the Netherlands at 10/1 might be the more prudent wager. FIFA ranks the orange-clad nation fourth in the world.
Of course, we don't always bet with our heads. Sometimes, when national pride is on the line, it doesn't feel right to go against our hearts.
The nice thing about that for many of our bettors is that USA is at 50/1, so you don't even need to risk much for the chance to win big.
I will be posting weekly articles including betting previews, matchups and the inside scoop from a bookmakers point of view right here at Doc's Sports. Read my past articles - Click Here, and learn more about Bodog sportsbook - click here. If you're ready to set up an account and start playing I'd like to offer you a Sign up Bonus - Click Here. Enjoy the Bodog Experience.