Bodog Bookie: Hockey Betting Never More Popular
by Richard Gardner | Bodog Sportsbook Manager - 6/8/2011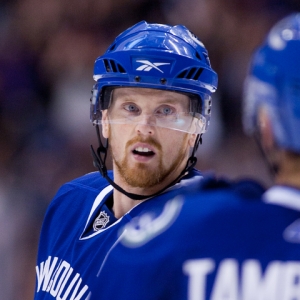 The Boston Bruins made it a series Monday night, throttling the Vancouver Canucks, 8-1, at TD Garden. Other than the blowout that gave the B's their first win of the 2011 Stanley Cup final after the Canucks had taken the first two games back in Vancouver, the night was marred by an ugly hit on Nathan Horton by Aaron Rome that sent the Boston forward off on a stretcher and to the hospital.
Game 3 also featured the latest acts of taunting that have been playing out since Vancouver's Alex Burrows chomped down on Patrice Bergeron's finger in the series opener. In Game 2, Canuck agitator Maxim Lapierre put his glove right up to Bergeron's mouth, an obvious allusion to the biting incident. So as the Bruins were pouring it on in Game 3, Milan Lucic decided to do the exact same thing to Burrows, drawing a huge ovation from the raucous Boston crowd. Earlier in the game, Mark Recchi had done the same thing to Lapierre.
Instant $250 Free Bonus Bet from Bovada -
CLICK HERE
Add all the storylines up and let's just say hardcore hockey fans are looking rather forward to Game 4. At Bodog, we expect heavy betting action for Wednesday's key contest, with even sports fans that don't normally watch hockey expected to tune in for the latest chapter of what's become an entertaining, if nasty, Cup final.
We've already seen strong interest from our bettors for this year's final, which has drawn impressive TV audiences in both countries. While the NHL's still not at the level of the NBA in the United States, our Canadian customers have been placing wagers like never before.
No surprise there, considering Game 1 drew the largest Canadian audience ever for an NHL game. Vancouver's 1-0 victory was seen by an average of 5.6 million viewers, a number that blew away the previous record of 4.96 million that was set in 1994 for Game 7 of the epic Cup final between the Canucks and Rangers. Try to remember that Canada's population is about 35 million, so we're talking about a large percentage of the country tuning in to the action.
Of course, this series could still be over in five games if Vancouver can regroup and get back on track. The Canucks are still the favorites to their first Cup in franchise history, but if the B's take Game 4 – and they're at -125 to do just that – the series will be going at least six and is sure to pick up betting momentum along the way.
I will be posting weekly articles about betting previews, matchups and the inside scoop from a bookmaker's point of view right here at Doc's Sports. Read my past articles – Click Here, and learn more about Bodog sportsbook – Click Here. If you're ready to set up an account and start playing I'd like to offer you a sign up bonus Click Here and enjoy our services.