College Basketball Odds: Duke, Purdue Look to Rebound
by Richard Gardner | Bodog Sportsbook Manager - 3/10/2011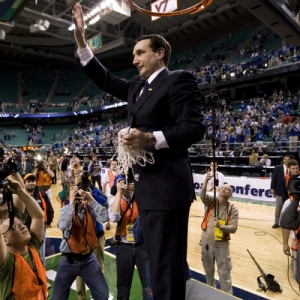 It's always advantageous to play with confidence. For the Duke Blue Devils, the 2011 ACC Tournament could be a way to rediscover theirs.
While I've made the argument in the past that it can be tough for college basketball teams that are assured of a spot in March Madness to find the motivation to play hard in their conference tournaments, Mike Krzyzewski's squad probably won't be short of enthusiasm starting Friday.
Duke, a lock for an at-large bid to the 2011 NCAA men's basketball tournament, lost two of its last three games to end the regular season, including a crushing 81-67 defeat at the hands of archrival North Carolina on Saturday. The Blue Devils will look to get back on track when they meet the winner of Thursday's game between Maryland and NC State.
Instant $250 Free Bonus Bet from Bovada -
CLICK HERE
Not that Coach K is willing to admit that his team is suffering from a lack of confidence.
"We're a confident team," he said after the Tar Heels game. "Just because you miss shots, it's not about confidence. Sometimes you miss shots. If you're not confident, you don't take the shots. Confidence is not our problem. We're OK."
We went into Thursday's action with the Blue Devils at 4/5 odds to win the ACC Tournament on our NCAA futures board at Bodog, followed by North Carolina (7/4) and Clemson (10/1).
It's worth noting that Duke has won the past two conference tourneys and has triumphed in an impressive nine of the past 13. Since 1999, North Carolina has won the ACC tourney twice and Maryland once. The last time another team besides those three won was in 1996 when Wake Forest, led by Tim Duncan, defeated Georgia Tech, 75-74, in the final.
Another national-title contender that could be using its conference tournament to refocus is Purdue, which fell in embarrassing fashion to Big Ten bottom-feeder Iowa on Saturday in the Boilermakers' final game of the regular season.
"They played harder than us," said Purdue senior JaJuan Johnson after his team's 67-65 loss to the Hawkeyes. "It sucks to say that at this point in the year, but they really did. It's just how we respond to it. It could be a blessing in disguise."
The Boilermakers, who we had at 11/4 odds to win the Big Ten Tournament, will look to respond in appropriate fashion when they take on the winner of Michigan State-Iowa on Friday. Ohio State (4/7) is the favorite to win the tourney, followed by Wisconsin (11/2).
I will be posting weekly articles about betting previews, matchups and the inside scoop from a bookmaker's point of view right here at Doc's Sports. Read my past articles – Click Here, and learn more about Bodog sportsbook – Click Here. If you're ready to set up an account and start playing I'd like to offer you a sign up bonus Click Here and enjoy our services.