2011 Florida Marlins Predictions and MLB Futures Odds
by Robert Ferringo - 3/4/2011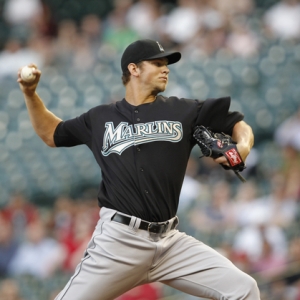 Over the last 23 years the Florida Marlins have as many World Series titles as all but one team in the Major Leagues (the Yankees) and their two championships ties them with just two other franchises (Boston and Toronto) over that period. As such, I don't see them changing their game plan any time soon.
So Florida will begin another Spring Training as a team that baseball bettors and fans don't quite know what to make of. They have a new manager and a new bullpen. But they don't have a new approach: this team will again be relying on some of the best young talent in the game to create its own destiny within the season.
According to an ESPN.com roster analysis the Marlins currently are tied with Seattle for the third-youngest lineup in the Major Leagues. The only teams younger are Kansas City and Cleveland, and the Pirates are just 0.1 year "older" than the Fish. However, unlike the Mariners, Royals, Pirates and Indians, the Marlins are perennial contenders in their division and looking forward to another competitive year.
The Marlins have surpassed their MLB season win total odds in five of the last six years and have topped their preseason PECOTA projections in four of the past six seasons. But, most importantly, they have turned a full season profit for their backers – based on a $100 bettor playing all 162 games – in three straight years and four of the last five seasons.
So please, keep underestimating the Fish. That way I can keep finding great value betting on them.
Here are Doc's Sports 2011 Florida Marlins 2011 Predictions and MLB Futures Odds:
2010 Record: 80-82
2011 Wins Over/Under: 81.5
Odds To Win 2011 NL East: 10/1
Odds To Win 2011 NL Pennant: 20/1
2011 Florida Marlins Odds to Win World Series: 40/1
Pitching: Florida is loaded with power right-handed starters. That may make it tough for them to consistently beat the lefty-laden lineup of division frontrunner Philadelphia. But when you consider the quality of this staff you are willing to overlook that one "flaw". Josh Johnson anchors the group and when he is healthy he is one of the best arms in the National League. He is followed by erratic Ricky Nolasco, who was excellent in 2008 and 2010, going a combined 29-17 with an ERA around 4.00. But this same guy had an ERA of over 5.00 in 2009 (although he did go 13-9). Florida's biggest free agent pickup was Javy Vasquez, who dominated National League hitters in 2009 before a weak year with the Yankees in 2010. The Marlins have significantly upgraded the bullpen, bringing in key pieces in the Dan Uggla and Cameron Maybin trades. They have a nice blend of lefties and righties, as well as youth and experience, and this could turn out to be a big strength for this club.
Hitting: Hanley Ramirez is still one of the best bats in baseball and is the anchor of this lineup. He had some significant issues with former manager Freddi Gonzalez, but should be looking forward to a fresh start. He needs to step up as a leader for this team; he's not a kid anymore. Florida signed 2009 All Star Omar Infante and he joins Han-Ram as the only "sure thing" in the Florida lineup. The rest is all about potential. Mike Stanton hit 22 home runs last year at age 21. But he also batted .259 with 123 strikeouts. Prospect Logan Morrison hit .283 and was steady, but only had two homers and just 62 games. Chris Coghlan, Emilio Bonifacio and Gaby Sanchez are all 28 years old or younger and should be approaching their "prime". At least one of them really needs to step up and be a consistent bat. They also brought in John Buck to catch after his a career year in Toronto.
Players To Watch: Mike Stanton, RF and Gaby Sanchez, 1B. Stanton (21) and Sanchez (27) are two young sluggers that will be charged with protecting Ramirez. They need both of them to build on last year's numbers (.259-22-59 and 273-19-85, respectively) to replace the number of veteran bats (Willingham, Uggla, Cantu, Ross) that this team has let go over the last several years.
Key Stat: Only 16 of Florida's last 158 series of three games or longer have ended in a sweep over the last three years. The league average is around 15-20 percent so the Marlins are a dream team for those that like to play a chase betting system. They have had only four losing streaks of longer than four games – and none longer than seven – in the last three seasons. This team is simply one of the most consistent winners in the league. Also, four of their last 13 sweeps have come at the hands of the Phillies.
2011 Florida Marlins Predictions: Florida is just going to continue to be what it is: a competitive team that is good enough to be in the playoff discussion in August but not good enough to be taken too seriously in September. If the starting pitching can stay healthy then this team really has a shot at around 85 wins and could be a Wild Card threat because of Ramirez and the bullpen. But with so much raw, young, unproven talent it is always tough to figure out which spots to bet and which ones to fade this club. I predict that Florida will remain a solid wager as an underdog – especially within the division – and will be a team that has mental lapses against the middle- and bottom-tier teams in the National League.
2011 Florida Marlins MLB Season Win Totals Predictions: 'Over' 81.5. I think that if Johnson stays healthy and if Vasquez regains his 2009 form now that he's back in the pitcher-friendly National League then this team could pass the Braves as No. 2 in the East. I like Florida's bullpen more than Atlanta's and I think that the Braves have as many question marks in their lineup as Florida. The difference is that Florida's question marks have a lot more upside. Florida is just always a little better than you think and I believe that they will sneak over this number. They have only won less than 83 games three times in the last eight years and have averaged 82.2 wins during that period.
Robert Ferringo is a professional sports handicapper for Doc's Sports. He is considered one of the top MLB cappers in the country and has turned a profit in four of the last five years on the diamond with his baseball picks. He closed 2010 with $6,000 in earnings over the last four months and is looking forward to a great upcoming season against the MLB odds. Click here for more information on his MLB picks.