Jimmer Fredette Favored to Win Naismith Award
by Richard Gardner | Bodog Sportsbook Manager - 2/11/2011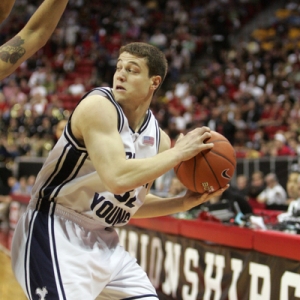 The list of basketball superstars who have been awarded the Naismith College Player of the Year is a long one. Kareem Abdul-Jabbar. Pete Maravich. Bill Walton. Larry Bird. Michael Jordan. Patrick Ewing. David Robinson. You might have heard of those guys.
Recently the award has been bestowed on a number of current NBA stars, including Kevin Durant and Blake Griffin.
So who will it be this year? Bodog has just released its odds to win the 2011 Naismith Award and the favorite will come as no surprise to college hoops fans. BYU's Jimmer Fredette is at -150, followed by Ohio State's Jared Sullinger (+200), Duke's Nolan Smith (+400) and UConn's Kemba Walker (+1500).
Instant $250 Free Bonus Bet from Bovada -
CLICK HERE
As soon as the above odds were posted the bets for Fredette came rolling in. Our players seem to think it would take some sort of great injustice for the senior guard to be overlooked.
Heading into Saturday's game against Utah, the 21-year-old Fredette is averaging 27.5 points per game to lead the nation in scoring.
Nobody expected much of BYU this season – the Cougars didn't even rank in the preseason top 25 – but Fredette has led his team to a 22-2 record, good for No. 7 in the AP rankings.
How crazy has Jimmermania gotten? One BYU student felt the need to write a letter to the campus newspaper complaining about it.
Wrote Michelle Peralta: "I can't walk across campus without hearing Jimmer Fredette's name a dozen times. His name comes up everywhere: in class, at work, during lunch … really, people? Cut it out with the Jimmer worship. Last time I checked, idol worship was very much frowned upon in the scriptures. Don't you have a life to live? Then quit wasting it in front of the TV or in lines at the Marriott Center."
Let's just say her letter was not well-received by many of her basketball-loving classmates.
On Wednesday, the Cougs blasted Air Force 90-52, handing the Falcons their worst home loss ever. Fredette, of course, was a major factor in the blowout victory, piling up 25 points and reaching the 20-point mark for the 10th straight game.
And it's not like Falcons didn't try to make it hard for him.
"Their game plan was to be very, very, very, very physical with me," Fredette said. "That's probably the most aggressive I've been played. I was still able to get some shots off, and my outside shot was going a little bit. It was a little frustrating, but our team just played great in general. We had a great win."
Fredette better get used to being played physically by opponents, but so far he's held up extremely well.
I will be posting weekly articles including betting previews, matchups and the inside scoop from a bookmakers point of view right here at Doc's Sports. Read my past articles - Click Here, and learn more about Bodog sportsbook - click here. If you're ready to set up an account and start playing I'd like to offer you a Sign up Bonus - Click Here. Enjoy the Bodog Experience.