Masters Betting: Sportsbooks Would Love a Tiger Woods Comeback
by Richard Gardner | Bodog Sportsbook Manager - 4/8/2011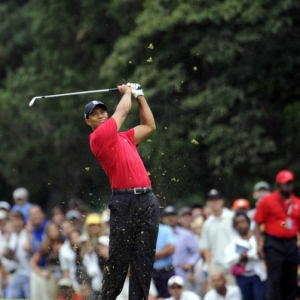 When the 2011 Masters teed off Thursday at Augusta National in Georgia, there were a number of players that we found ourselves exposed on … Which is a nice way of saying that come Sunday we won't be too upset if those players don't win.
One of those players is Bubba Watson (22/1), the long-hitting fan favorite who always attracts good betting support at Bodog's online sportsbook.
Another is Ryo Ishikawa (150/1), the 19-year-old Japanese sensation whose odds were just too tempting for some to ignore.
Instant $250 Free Bonus Bet from Bovada -
CLICK HERE
There are others that we'll probably end up rooting against during the final round. That's just the way it goes for odds makers.
However, there's one player we're exposed on that we're definitely not rooting against, and that's Tiger Woods (8/1). The sooner he starts winning again, the better for every online sportsbook.
As many talented golfers as the PGA Tour currently showcases on a weekly basis – and there are more than ever right now – there's still only one guy that can convince casual golf fans to wager.
You've no doubt heard how significantly Tiger affects TV ratings for golf tournaments. Well, like I always say, when people are watching sports on TV they're betting on those sports, too.
Woods shot a 1-under-par 71 in his first round, putting him six shots behind co-leaders Rory McIlroy and Alvaro Quiro heading into Friday's action.
"I'm right there in the ballgame," Woods said. "I'm only six back. We've got a lot of golf ahead of us."
And that was music to our ears. If Tiger can stay in contention until the final round, we'll see a noticeable spike in action over the weekend. And if he ends up pulling on his fifth green jacket on Sunday, it's game on for PGA betting for the rest of the season, and hopefully past that. If we have to take a loss on this one tournament, we'll be happy to consider it an investment in the future.
We saw considerable betting support for Woods (12/1) when we posted his odds to win the Masters prior to the second round. Even though he didn't post a fantastic score in the first round, I think a lot of people liked what they saw from the former No. 1, who had his fair share of birdie opportunities even if he didn't make all the putts.
"Today was one of those days where I hit beautiful putts," he said. "I was hitting my lines and they just weren't going in."
Let's hope they start going in soon.
I will be posting weekly articles about betting previews, matchups and the inside scoop from a bookmaker's point of view right here at Doc's Sports. Read my past articles – Click Here, and learn more about Bodog sportsbook – Click Here. If you're ready to set up an account and start playing I'd like to offer you a sign up bonus Click Here and enjoy our services.