Masters Odds: Mickelson the one to beat at Augusta
by Richard Gardner | Bodog Sportsbook Manager - 4/6/2011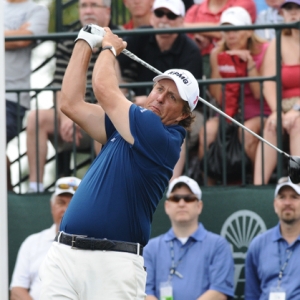 When you're the defending champion and you're just coming off a win, chances are you're going to be the favorite at any tournament.
And that's the story for Phil Mickelson this week in Georgia as he gets set to tee off at the 2011 Masters at Augusta National. Not only did he win the green jacket last year, he also won the Shell Houston Open last week.
At Bodog, we're giving Mickelson 6/1 Masters odds to win the first golf major of the year, followed by Tiger Woods at 8/1 and a couple of players, Lee Westwood and Nick Watney, at 16/1.
Instant $250 Free Bonus Bet from Bovada -
CLICK HERE
We've booked a ton of wagers on Lefty to win his fourth Masters title (the others coming in 2004 and 2006), which I suppose is no big surprise considering many of his competitors agree he's the one to beat.
"It seems that everyone has pretty much got Mickelson in the green jacket Sunday evening, and there's not much use in turning up at this point," joked Graeme McDowell, the U.S. Open champion. "He's a great player around Augusta, and if you finish ahead of him, you've got a decent chance."
When PGA champion (and the top-ranked player in the world) Martin Kaymer was asked to name the dominant player at the Masters, he replied, "I think Phil."
Of course, betting on Mickelson to win the Masters isn't the only Lefty-related wager we're offering this week. You can bet if Mickelson will be the leader after the first round (9/1), if he'll get a hole-in-one over the four rounds (+6600), if he'll finish in the top 5 (11/8), if he'll finish in the top 10 (-175), and before we get ahead of ourselves, if he'll make the cut (-2000). Oh, and before we get ahead of ourselves again, if his first tee shot will land in the fairway (-120).
One of the more interesting bets we're offering with Mickelson involved is whether he'll beat a group comprised of Woods, Westwood, Watney and Martin Kaymer. This, of course, removes the chance that a relative no-name will shock the world and win the Masters, such has been the case in the recent past when the likes of Zach Johnson (2007) and Trevor Immelman (2008) slipped on the green jacket.
Whatever happens this week, don't expect anything less from Mickelson than gripping it and ripping it.
"Even though you can win no matter how far you hit the golf ball, length is a factor and is an advantage, and to be able to keep the ball in smaller sections on the green can be very advantageous," he said.
"So this week is the one week where I swing the absolute hardest. I've been working out for it. I saw a back specialist last night, just to make sure that it's strong enough to withstand the type of rotational speed that I'm going to be trying to apply this week - because I believe it's a big advantage if you can move it out there."
I will be posting weekly articles about betting previews, matchups and the inside scoop from a bookmaker's point of view right here at Doc's Sports. Read my past articles – Click Here, and learn more about Bodog sportsbook – Click Here. If you're ready to set up an account and start playing I'd like to offer you a sign up bonus Click Here and enjoy our services.