Miami Heat Favored to Win 2012 NBA Title
by Richard Gardner | Bodog Sportsbook Manager - 6/17/2011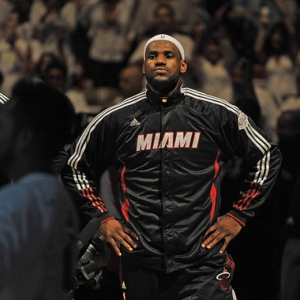 Miami's much-ballyhooed star trio came up short in the NBA Finals, its team losing in six games to the Dallas Mavericks. But the common wisdom is that it's only a matter of time before LeBron James, Dwyane Wade and Chris Bosh capture a championship together.
At Bodog's online sportsbook, we've released our odds to win the 2012 NBA Finals and the Heat is the overwhelming favorite at 5/2. The Los Angeles Lakers are next (11/2), followed by the Chicago Bulls (6/1), Oklahoma City Thunder (15/2) and Mavericks (10/1).
Instant $250 Free Bonus Bet from Bovada -
CLICK HERE
We've already booked substantial action on Miami to learn from its mistakes and get the job done next year. The Heat was bound to suffer growing pains during the inaugural season of the Big Three, and apparently risking $100 to win $250 on a team stacked with talent sounds good to a lot of bettors.
"Obviously there are teams that have won championships in their first year together, but those are real, real veteran guys, and they have to really be great complementary players to each other," Wade said. "And we have similar styles, with myself and LeBron, and really trying to get comfortable with Chris' game and understanding he was adjusting his game some. So there was a lot of thinking going on this year that won't be going on next year."
Even though the Heat didn't win a championship, there's something to be said for the way it rolled through the first three rounds of the playoffs, compiling a 12-3 record on the way to the Finals.
Game 4 of the Dallas series was Miami's real undoing, allowing the Mavs to go on a 21-9 run over the final 10:12 of the game to even the series with an 86-83 victory. If the Heat had gone up three games to one, it would've been a pretty tall order for Dirk Nowitzki and company to fight back.
King James is taking most of the blame for the Heat's failure to beat Dallas, and the question marks surrounding the superstar will continue until he finally wins the big one and performs in crunch time. Against the Mavs, he scored just 18 points in six combined fourth quarters. Not exactly the best way to prove your doubters wrong.
In basketball, one of the best compliments a player can receive is that he's money under pressure. Heck, Robert Horry made a career of nailing big shots. But James hasn't done that so far. And while it's true he's only 26 and Michael Jordan didn't win a title until he was 27, LeBron didn't spend three years in college and has more than enough NBA experience under his belt.
I will be posting weekly articles about betting previews, matchups and the inside scoop from a bookmaker's point of view right here at Doc's Sports. Read my past articles – Click Here, and learn more about Bodog sportsbook – Click Here. If you're ready to set up an account and start playing I'd like to offer you a sign up bonus Click Here and enjoy our services.