MLB Odds: Bettors Banking on Indians Pitching
by Richard Gardner | Bodog Sportsbook Manager - 5/13/2011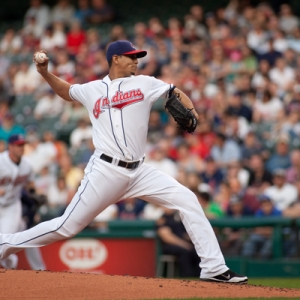 They have one of the lowest payrolls in Major League Baseball. They also have one of the best records. And they're making the city they play in forget all about LeBron James.
OK, maybe I'm getting carried away with the whole forgetting-all-about-LeBron thing, but the Cleveland Indians (23-12) have certainly been a pleasant surprise for their fans.
Of course, pleasant doesn't even begin to describe how it's been for the few brave souls that have been betting on the Tribe all season. No team in baseball has been more profitable for its backers this year.
Instant $250 Free Bonus Bet from Bovada -
CLICK HERE
The Indians got off to a torrid start, finishing April with an 18-8 record. Along the way, they swept the Red Sox, swept the Orioles, swept the Royals and swept the Tigers. Not surprisingly, by the end of the month, bettors had started to climb aboard the money train.
A quick glance at the team's stats and it's easy to see one of the big reasons Cleveland's getting it done. The Indians lead the AL in quality starts, which are credited to a pitcher that completes at least six innings and allows no more than three runs or fewer. Oh, and it's not like they've got Philadelphia's starting rotation to rack up those quality starts. Do the names Justin Masterson, Josh Tomlin and Fausto Carmona ring the same bells as Roy Halladay, Cliff Lee and Cole Hamels? Do they ring any bells at all?
Meanwhile, Chris Perez has been effective closing out games and the pitchers have been getting run support courtest the bats of Travis Hafner, Grady Sizemore and Asdrubal Cabrera.
Of late, the Indians have been winning games in dramatic fashion, as if just winning them wasn't enough. Tuesday's 5-4 victory over the Rays was the fourth straight home game they'd won in their final at-bat.
"They're very resilient and they believe in themselves," Indians manager Manny Acta said. "It's early, but the amount of times that we have done it late in the games, really kind of gives them confidence."
Whether or not the Indians can maintain this pace all season long is another thing. Although perhaps they won't have to. They've already built up a healthy lead in the AL Central, a division that shouldn't take the most impressive record in baseball history to win.
At Bodog, we're giving the Indians 20/1 odds to win the World Series, down significantly from before the season began. While I can't say we're being overrun with bets on Cleveland to win it all, the action has picked up fairly dramatically.
The Phillies (3/1), Yankees (6/1) and Red Sox (13/2) remain the favorites to win the World Series.
I will be posting weekly articles about betting previews, matchups and the inside scoop from a bookmaker's point of view right here at Doc's Sports. Read my past articles – Click Here, and learn more about Bodog sportsbook – Click Here. If you're ready to set up an account and start playing I'd like to offer you a sign up bonus Click Here and enjoy our services.