NBA Odds: Bulls Make Believers of Bettors
by Richard Gardner | Bodog Sportsbook Manager - 5/17/2011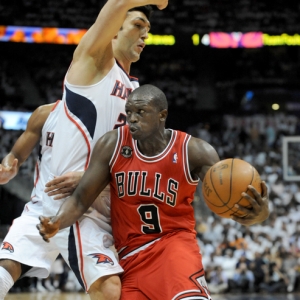 It wasn't just that the Chicago Bulls beat the Miami Heat in Game 1 of the Eastern Conference finals. It's that they absolutely destroyed them. Derrick Rose racked up 28 points and led his team to a 103-82 victory over the favorites to win it all this year.

Even though it was only one game, the Bulls made instant believers out of many bettors at Bodog's online sportsbook. We're giving Chicago 2/1 odds to win the NBA championship and have been booking a flood of wagers on them since Game 1 on Sunday.
Instant $250 Free Bonus Bet from Bovada -
CLICK HERE
If the Bulls beat the Heat in Game 2 on Wednesday at the United Center, it will be interesting to see how bettors react and the odds adjust. The Heat are the current favorites on our NBA futures board at 19/10 odds to win the title. (Dallas is at 5/2, followed by Oklahoma City at 11/2.)
As of Tuesday afternoon at Bodog, Chicago was a 2-point favorite in Game 2. If the first game had been a closer Bulls victory, I think the Heat could've been favored to win Wednesday. But it's tough to trust a team that just laid such an enormous egg, even if that team has LeBron James and Dwyane Wade.
For his part, James was saying all the right things after the Game 1 debacle.
"We can lose by 100 [points]," James said. "This is the playoffs. This is only one game. It's just one game. It's not like it gave them two wins."
True, but that loss has bettors doubting more than just the Heat's mental fortitude to win a title, which has been the big question surrounding this team so far. Now there's real concern that Miami doesn't have the horses, particularly at center and point guard. James, Wade and Chris Bosh are but three players; a basketball team has five players on the court. Plus, there is the bench, which is another worry for the Heat.
Meanwhile, the Bulls couldn't be feeling better about their depth. A quick glance at Sunday's box score reveals 10 Chicago players that were on the court for more than 10 minutes.
Heck, the big play on Sunday came courtesy Taj Gibson, a second-year player out of USC that dunked on Wade in spectacular fashion.
"Our second team is not intimidated by anybody," said Gibson. "Our second team mostly used to be starters on the previous teams. We've got a lot of confidence, and our team just builds everybody's confidence off practice and late in games."
I will be posting weekly articles about betting previews, matchups and the inside scoop from a bookmaker's point of view right here at Doc's Sports. Read my past articles – Click Here, and learn more about Bodog sportsbook – Click Here. If you're ready to set up an account and start playing I'd like to offer you a sign up bonus Click Here and enjoy our services.