NBA Odds: Mavs Make It a Series, Sports Books Happy
by Richard Gardner | Bodog Sportsbook Manager - 6/4/2011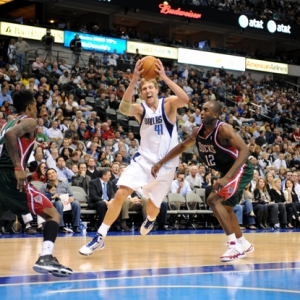 The one thing we didn't want was a short series. And late in Thursday's Game 2 of the 2011 NBA Finals, it was looking like a short one was a very real possibility. The Heat led the Mavericks by 15 points in the fourth quarter, meaning Miami was on the cusp of traveling to Dallas up two games to none. If the Heat won Game 3 there, you could pretty much close the book.
And then it happened. The Mavs went on a run for the ages, outscoring the Heat 22-5 to finish the game and win, 95-93. All of a sudden we had ourselves a series.
Instant $250 Free Bonus Bet from Bovada -
CLICK HERE
"Definitely a huge comeback for us and we never gave up, and that was big," said Dallas star Dirk Nowitzki, who scored the winning basket after blowing by Chris Bosh and laying it in with his left hand.
It was big for Bodog as well. First of all, it took a sweep out of the equation, and the more games we can book action on the better. We're a lot like TV networks in that regard, always hoping for the longest series possible to maximize our return.
But more than offering our bettors as many games as possible to wager on, a long series is also bound to capture the interest of casual bettors, the ones who might normally bet on other sports like baseball or football because those are the sports he or she likes the most. After all, even if you're not a huge basketball fan, as long as you're a sports fan in general you're likely to make time to watch a close series with a championship on the line.
It will be interesting to see how bettors react to what happened on Thursday night. Game 3 is scheduled for Sunday in Dallas, with most books having the hometown Mavs favored by 3.
There are a number of ways bettors could look at it.
Perhaps Dallas will ride the momentum of Game 2's comeback and feed off the energy of the crowd. The Mavs are 7-1 (6-2 against the spread) at American Airlines Center in these playoffs.
Then again, if the Heat players can take anything positive away from Thursday's collapse, it's that they did manage to build up a big fourth-quarter lead, and for most of the series, Miami has been the better team.
"That's about as tough a fourth quarter as you can have," Heat coach Erik Spoelstra said. "When it started to slide, it just kept on going."
We'd like this series to keep going, too. All the way to the seventh game.
I will be posting weekly articles about betting previews, matchups and the inside scoop from a bookmaker's point of view right here at Doc's Sports. Read my past articles – Click Here, and learn more about Bodog sportsbook – Click Here. If you're ready to set up an account and start playing I'd like to offer you a sign up bonus Click Here and enjoy our services.