NCAA Tournament Betting: Big East Bomb Good for Bookies
by Richard Gardner | Bodog Sportsbook Manager - 3/24/2011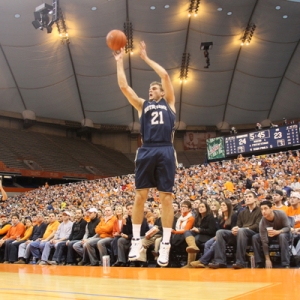 Turns out Charles Barkley was right. The Big East is overrated.
The conference that earned 11 bids to the 2011 NCAA men's basketball tournament has just two teams still alive in the Sweet 16.
Among the vanquished after the opening rounds of the tourney was No. 1 seed Pittsburgh, with the Panthers falling to Butler on Saturday.
Also gone was No. 2 seed Notre Dame, the Irish getting smoked by Florida State on Sunday.
After the carnage, the only Big East teams that lived to play this week were No. 11 Marquette, which eliminated conference rival Syracuse on Sunday, and No. 3 Connecticut, which took out Cincinnati the day before.
Instant $250 Free Bonus Bet from Bovada -
CLICK HERE
"You know how when your friend tried to set you up with a girl and he said she has a good personality? That's not good," Barkley told the New York Post. "The Big East has a good personality.
"When the Big East got 11 teams in, people thought they would dominate the tournament. I didn't, but people thought I was just saying, 'Big Least' to say it.
"The Big East has a great personality. They play the hardest and have the best coaches.
"But the league doesn't have the talent to be Miss America."
Ladies and gentlemen, Sir Charles.
What's more, the Big East could easily be down to no teams remaining in the tournament by the time the weekend rolls around. Connecticut (-1.5) will be in tough against San Diego State on Thursday and Marquette (+4.5) will have its hand full with North Carolina on Friday.
I'll be curious to see which side bettors place their money on in these two games after watching so many Big East sides bite the dust last week. Our players at Bodog took it on the chin particularly hard in three Big East games: when Morehead State (+9) shocked Louisville, when Butler (+8) bounced Pitt, and when Notre Dame (-13.5) couldn't cover the spread against Akron.
Not surprisingly, we haven't booked many bets on the Big East (10/1) for our prop asking which conference the eventual champion will come from. The current favorite is the Big Ten (7/5), which still has Ohio State and Wisconsin in the chase. After that it's the Big 12 (Kansas) at 9/4, followed by the ACC (Duke, North Carolina, Florida State) at 5/2 and the SEC (Florida, Kentucky) at 15/2.
If you like having a few horses in the same race, it's hard not to be tempted to bet on the ACC. Both Duke and North Carolina have what it takes to win it all, and Florida State has a great chance to advance to the Elite 8 by beating Virginia Commonwealth, which is coming off a big upset of Purdue.
I will be posting weekly articles about betting previews, matchups and the inside scoop from a bookmaker's point of view right here at Doc's Sports. Read my past articles – Click Here, and learn more about Bodog sportsbook – Click Here. If you're ready to set up an account and start playing I'd like to offer you a sign up bonus Click Here and enjoy our services.