NCAA Tournament Odds: Marcus Morris favorite to win MOP
by Richard Gardner | Bodog Sportsbook Manager - 3/17/2011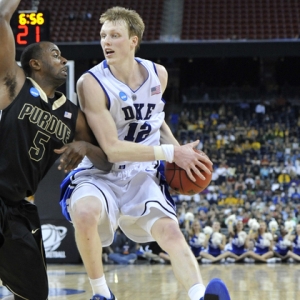 The list of Most Outstanding Players in the history of the NCAA men's basketball tournament has a number of famous names as well as a few names that have been forgotten by most hoops fans.
Among the past winners you're no doubt familiar with are Bill Russell, Wilt Chamberlain, Kareem Abdul-Jabbar, Magic Johnson, Elgin Baylor, Jerry West, Isiah Thomas, Hakeem Olajuwon, Patrick Ewing and, more recently, Carmelo Anthony.
But whatever happened to Juan Dixon? (Answer: He's playing pro ball in Turkey.)
Instant $250 Free Bonus Bet from Bovada -
CLICK HERE
Last year, Duke's Kyle Singler was named most outstanding player after leading the Blue Devils to a national championship. This year, he's got a great shot to become the first repeat winner since Bill Walton won back to back in 1972 and 1973 with UCLA.
At Bodog, we've got Singler at 6/1 odds to win the most outstanding player award, as voted by the Associated Press. But Singler isn't the favorite; that would be Marcus Morris of Kansas, who went into the tournament at 11/2 odds. Other contenders for the crown include Marcus' twin brother, Markieff (10/1), as well as Ohio State's Jared Sullinger (13/2) and Duke's Nolan Smith (13/2).
Marcus Morris (6-foot-9, 235 pounds), the Big 12 player of the year, certainly isn't shy about his abilities.
"Guys as good as me in the post," he said recently. "I don't think there are any. My brother [Markieff] and I, and the other guys we have here, we're the most skilled frontcourt in the country."
So far we've booked the large majority of action on players from teams with a high probability of making the Final Four, which should really come as no surprise. Betting on a player from a team that's a long shot to win the tourney would be quite the risk considering the last guy to win the award without his team winning the national title was Olajuwon, back in 1983 when Houston fell in a final-game shocker to Jim Valvano's NC State.
In other words, great college players like BYU's Jimmer Fredette (45/1) would need a miracle or two to follow in Singler's footsteps this year. Not that we haven't seen any bets on Jimmer whatsoever; just not many.
One player with a tempting payout on a team that's got a chance to win a title is North Carolina's Harrison Barnes (25/1). The Tar Heels will need the freshman forward to be at his best if they have any shot of winning it all, and Barnes has the talent to make that happen. The only question is whether he's ready for the big stage.
I will be posting weekly articles about betting previews, matchups and the inside scoop from a bookmaker's point of view right here at Doc's Sports. Read my past articles – Click Here, and learn more about Bodog sportsbook – Click Here. If you're ready to set up an account and start playing I'd like to offer you a sign up bonus Click Here and enjoy our services.