NCAA Tournament Projections: Conference Tourneys Last Stop for Many
by Richard Gardner | Bodog Sportsbook Manager - 3/9/2011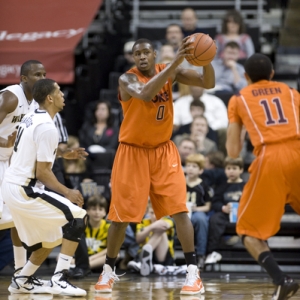 This might seem like an obvious thing to say, but one of the most important things in sports betting is determining which team is more motivated to win the game. After all, if you don't really care about winning, you're a lot more likely to lose.
How often have we seen motivation play a role in college football when a team that once had BCS aspirations ends up in what it deems to be a lesser bowl game against a team that's overjoyed just to be playing after Christmas?
A great example of this was the 2010 Holiday Bowl when the Washington Huskies defeated Nebraska, a victory that came the same season the Cornhuskers crushed the Dawgs in Seattle. The Huskies were playing their first bowl game in ages; Nebraska was coming off a devastating loss to Oklahoma that relegated it to the Holiday Bowl. Who's going to care more?
Instant $250 Free Bonus Bet from Bovada -
CLICK HERE
Motivation is also a huge factor in college basketball, particularly when it comes to the conference tournaments. While some teams have already punched their ticket to March Madness, others are on the bubble, or even outside the bubble where only a conference tourney victory could earn them a bid.
Take a team like Virginia Tech in the ACC. The Hokies are very much on the bubble heading into their conference tournament after consecutive losses to Boston College and Clemson to close out the regular season. If they don't perform well starting Thursday against Georgia Tech, they'll be NIT bound.
"If you don't win your opening round of the ACC, you're in the NIT," Virginia Tech coach Seth Greenberg said following Saturday's loss to the Tigers. "There's no doubt about it."
And even a win over the Yellow Jackets might not be enough to go dancing. The Hokies might very well have to defeat Florida State in the next round to convince the committee of their worth. Fortunately for Greenberg and company, the Seminoles are a lock to receive an at-large bid to the big tournament, so you have to wonder how motivated they'll be to play hard. There's a big difference between playing for tournament seeding and playing for tournament lives.
We've actually booked a good amount of futures action on the Hokies, who are getting 12/1 odds to win the ACC Tournament.
Remember that this is the same team that defeated Duke just two weeks ago. It will be interesting to see just how much motivation plays a role for Virginia Tech starting Thursday.
I will be posting weekly articles about betting previews, matchups and the inside scoop from a bookmaker's point of view right here at Doc's Sports. Read my past articles – Click Here, and learn more about Bodog sportsbook – Click Here. If you're ready to set up an account and start playing I'd like to offer you a sign up bonus Click Here and enjoy our services.