2011 New York Mets Predictions and MLB Futures Odds
by Robert Ferringo - 2/28/2011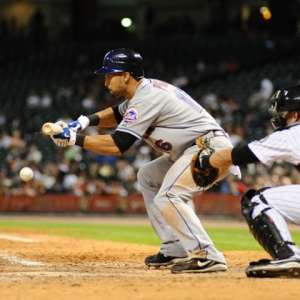 With a new coach, new general managers, and new philosophy the New York Mets will begin what seems like their 11th rebuilding plan in the last seven years. However, there is a good chance that the brain trust of Sandy Alderson, J.P. Ricciardi and Paul DePodesta will be able to clean up this franchise and restore some consistency in the organization.
But not this year.
The Mets are still flopping around on the tail end of a wave of success in the middle of the 00's. They still have some inflated contracts on the books and some aging, ineffective players that need to play out the string before New York can move. New York was quiet in free agency and they appear to be willing to give some younger players a shot in key roles this season.
Instant $250 Free Bonus Bet from Bovada -
CLICK HERE
Unfortunately for New York, while they are still cleaning up a murky recent past the rest of the division is loading up and focused on a promising future. As a Mets fan I would love to have the same eternal hope that I have every April: that this could be Our Year. But as a baseball handicapper I look at the Mets, I look at their division, and I am looking forward to banking against them for the next several months.
With that in mind, here is Doc's Sports 2011 New York Mets predictions and MLB futures odds:
2010 Record: 79-83
2011 Wins Over/Under: 78.5
Odds To Win 2011 NL East: 18/1
Odds To Win 2011 NL Pennant: 20/1
2011 Mets Odds To Win World Series: 40/1
Pitching: If you want an idea of just how screwed the Mets are this year, you just have to look at their starting rotation. Mike Pelfrey is the No. 5 starter on a great team, the No. 4 starter on a very good team, the No. 3 starter on a mediocre team, and the No. 2 starter on a bad team. In case you hadn't guessed, he is the Mets No. 1 starter. Johan Santana won't be back until July (if he is back at all) and without him this team has zero chance of really competing with the rotations in Philadelphia, Atlanta and Florida. New York is hoping that R.A. Dickey – who was a piñata in the A.L. – can repeat last year's 2.84 ERA and 11 wins. Beyond that they are just crossing their fingers and hoping with Jon Niese, Dillon Gee and Chris Capuano. The bullpen isn't in much better shape. Last year the Mets did everything they could to void Francisco Rodriguez's contract last year due to off-field issues, but now he's supposed to be their bullpen savior as a closer. The middle relief is average. But it is going to get strung out because the Mets rotation isn't exactly full of innings eaters.
Hitting: The Mets seem like they are figuring out how to build a lineup to fit their cavernous ballpark. New York should be adopting more of an N.L. West-style approach to offense and as you look at their lineup they don't have many big boppers. In fact, I will be surprised if the Mets have anyone that finishes the year with more than 30 home runs. The Mets have plenty of speed and versatility at the top of their order with three switch hitters – Reyes, Pagan and Beltran. But I think this team will win or lose based on what the "meat" of the order: David Wright, Jason Bay and Ike Davis – can do. Beltran is moving over to right field to eliminate one question mark. But the Mets don't really have answers at second base (Dan Murphy or Lou Castillo) or behind the plate (Josh Thole).
Key Stat: The four starters the Mets have penciled in behind Mike Pelfrey combined to go 26-25 last season. They also had the fifth-worse team ERA on the road last year of any team in the National League.
Player to Watch: Angel Pagan, OF. Last year Pagan was my favorite Met to watch and he simply did all of the little things that help a team win. He hit 11 home runs, stole 37 bases, drove in 70 runs and was the consistent threat at the top of the lineup that Reyes has never been. The Mets need their stars – Reyes, Wright, Beltran and Bay – to play up to their potential/hype/contracts. But if this team is going to be a threat then they will also need the complimentary pieces to play well and pull their weight.
2011 New York Mets Predictions: This year is going to be sink-or-swim for the Mets. And I think they will drown before the all-star break. They simply don't have a rotation that is anywhere close to any of the three teams ahead of them. And the Mets lineup isn't good enough to make up that difference. Hopefully New York is transitioning away from the poor contracts, desperate maneuvers, and gross miscalculations that the front office has made in the recent past. The money issues that are plaguing this franchise (The Wilpons were victims in the Bernie Madoff ponzi scheme) will also hamstring what they can do to help out. But the bottom line is that this is almost a throwaway year where the Mets would need a lot of things to break right for them just to be competitive in the East and to threaten .500.
2011 O/U Wins Prediction: 'Under' 78.5. I think that Mets are the clear fourth-place team in the East. And, actually, Washington is gaining some ground on them. The fourth place team in the National League East has won 79 or more games just once in the last five years and that was last season when New York won 79. I thought they played above themselves last season and I don't think that they are better going into the season (especially without Santana as their No. 1). I think that 75 wins in a "rebuilding" year and a third straight fourth-place finish are in the cards for the Mets.
Robert Ferringo is a professional sports handicapper for Doc's Sports. He is considered one of the top MLB cappers in the country and has turned a profit in four of the last five years on the diamond with his baseball picks. He closed 2010 with $6,000 in earnings over the last four months and is looking forward to a great upcoming season against the MLB odds. Click Here for more information on his MLB picks.