NFL Divisional Playoffs Betting Recap from Bodog
by Richard Gardner | Bodog Sportsbook Manager - 1/18/2011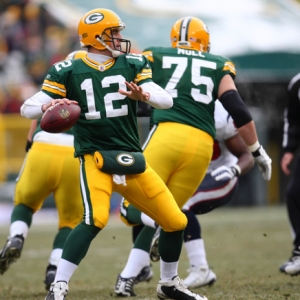 And then there were four. The Green Bay Packers, Chicago Bears, Pittsburgh Steelers and New York Jets are all that remain in the hunt for Super Bowl XLV.
It was a great weekend of NFL playoff betting for Bodog's online sportsbook with interest from our players at an all-time high. According to CBS, the Jets' 28-21 upset over New England was watched by approximately 43.5 million viewers, making it the most-watched game in divisional round history. And when people are watching, people are betting.
Instant $250 Free Bonus Bet from Bovada -
CLICK HERE
We booked action fairly equally on both sides of the Jets-Patriots tilt. New England (-10) garnered slightly more support with bettors remembering what happened in Week 13 when the Pats destroyed New York, 45-3. But Jets fans are a proud and plentiful bunch, not to mention 10 points is a lot of points.
We've got the Jets as 3.5-point underdogs for Sunday's AFC championship game in Pittsburgh. I expect we'll see more of the same for this one with both sides seeing good support. The Steelers are a tough team at Heinz Field, but remember that the Jets went there and won, 22-17, in Week 15. I also think that the half-point on top of the field goal that the Jets are getting will convince a few bettors to back the underdog. After all, this one could very well come down to the wire.
Over in the NFC, the betting on the point spread was split down the middle on both the Bears-Seahawks game and the Packers-Falcons affair. The players did, however, do very well on the Packers-Falcons total, which went way over 44.5 with Green Bay's 48-21 victory.
The Packers are 3.5-point road favorites this weekend in Chicago, which easily handled Seattle, 35-24, on Sunday at Soldier Field. So far the early action has been on Green Bay, a fact that doesn't surprise me in the least. Not after Aaron Rodgers' performance on Saturday when he threw for 366 yards and three TDs, registering a 136.8 passer rating.
Bettors have become so enamored with the Packers that Green Bay is now the favorite to win it all, getting 8/5 odds to win the Super Bowl. Pittsburgh is next at 2/1, followed by New York at 7/2 and Chicago at 5/1.
The Bears might feel a tad disrespected being home underdogs and the long shot to win the Super Bowl, but I think a lot of our players still aren't convinced that Jay Cutler can get it done in crunch time.
I will be posting weekly articles including betting previews, matchups and the inside scoop from a bookmakers point of view right here at Doc's Sports. Read my past articles - Click Here, and learn more about Bodog sportsbook - click here. If you're ready to set up an account and start playing I'd like to offer you a Sign up Bonus - Click Here. Enjoy the Bodog Experience.