NFL Props: Betting on Which QB Starts
by Richard Gardner | Bodog Sportsbook Manager - 5/5/2011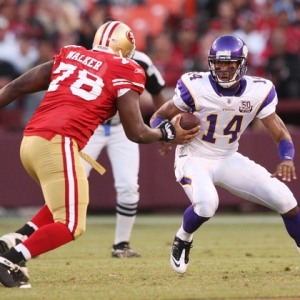 OK, so there's no guarantee we'll be watching NFL games in 2011. But according to our odds makers at Bodog, it's likely (-500) the season will start on time. So let's start talking some football instead of the lockout.
We've come up with a number of NFL props for the upcoming season, the most popular being the ones asking about the starting quarterbacks for various teams.
For example, who will be the starting quarterback for the Minnesota Vikings when the season kicks off? No, Brett Favre isn't an option.
Instant $250 Free Bonus Bet from Bovada -
CLICK HERE
Christian Ponder (+200), on the other hand, is a definite option. After the Vikes' first-round pick in the 2011 draft, we've got Donovan McNabb (+400), Joe Webb (+700) and Tarvaris Jackson (+1000). And for Vikings fans that don't like the sound of any of those guys, don't worry, there's still hope for someone else. In fact, the most likely option is "Other QB" (+120).
Back to Ponder, who was a rather controversial draft pick, going 12th overall when most analysts didn't have him ranked nearly that high. And even if he's as good as his draft position says he should be, it's still asking a lot for the rookie to start right off the bat. That's especially true in Minnesota, where the Vikings still have a lot of talent on their roster. We've got the Vikings at 35/1 odds to win the Super Bowl, which doesn't exactly make them the favorites; however, it certainly suggests they're a potential playoff team.
Enter McNabb, who remains under contract with the Washington Redskins, into the discussion. We've seen strong betting support for this option since NFL.com reported at the end of April that McNabb was expected to join the Vikings, the website explaining that "Ponder will need time to develop, and Minnesota, which boasts a veteran roster that came close to the Super Bowl two seasons ago, wants an experienced quarterback to steward the team and also help break in the youngster."
McNabb is coming off a season to forget with the Redskins. Not only did he throw a ton of interceptions, he was famously benched by coach Mike Shanahan at the end of a game against the Detroit Lions so that Rex Grossman could run the two-minute drill instead. Which had to be embarrassing.
Of course, there are a number of other interesting quarterback debates going on around the league. In Carolina, first overall pick Cam Newton (-250) is the heavy favorite to start for the Panthers. In Tennessee, rookie Jake Locker (+150) is a legitimate starting option for the Titans. And in Cincinnati, rookie Andy Dalton (+150) could be starting as well, with Carson Palmer (+550) a relative long shot.
I will be posting weekly articles about betting previews, matchups and the inside scoop from a bookmaker's point of view right here at Doc's Sports. Read my past articles – Click Here, and learn more about Bodog sportsbook – Click Here. If you're ready to set up an account and start playing I'd like to offer you a sign up bonus Click Here and enjoy our services.