NHL Odds Impact of NHL Trade Deadline
by Richard Gardner | Bodog Sportsbook Manager - 3/2/2011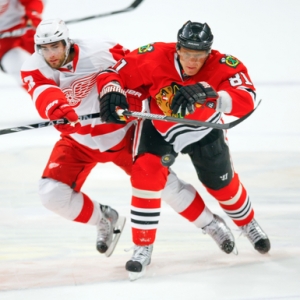 The Los Angeles Kings pulled off the biggest deal of the NHL trade deadline when they acquired hulking forward Dustin Penner from the Edmonton Oilers. To make the deal, Kings general manager Dean Lombardi didn't have to sacrifice anything but the future in minor-league defenseman Colten Teubert, a first-round pick in this summer's draft and a second- or third-round pick in 2012.
Penner has 21 goals this year with the struggling Oilers and should get plenty of playing time with Kings centre Anze Kopitar in what could make for a deadly duo.
Instant $250 Free Bonus Bet from Bovada -
CLICK HERE
"He's very fleet of foot. He controls the puck well. He has very good hands and is physical as far as using his body to shield the puck and finding his teammates," Penner said of Kopitar. "He shares the puck very well. He's done better every year."
Since the deal was announced we've booked an increasing number of bets on the Kings to win their first championship in franchise history. Los Angeles is getting 20/1 odds to win the 2011 Stanley Cup at Bodog and it wouldn't surprise me in the least if that number went down should Penner get off to a good start with his new team.
Of course, the Kings have to make the playoffs first before they can worry about winning the Cup. Los Angeles is currently in a dogfight with a whole pack of teams in the Western Conference for a postseason berth.
One team that doesn't have to worry about missing the postseason is Vancouver. The Canucks are first overall in the NHL and, like the Kings, are looking for their first Stanley Cup title in club history. According to our odds makers, they've got a great chance to make that happen. We've got Vancouver as the 4/1 favorite to hoist Lord Stanley's mug in the spring, followed by Philadelphia at 9/2 and Detroit at 13/2.
As for the defending champion Blackhawks, who are also in a battle to make the playoffs in the West, we've got them at 20/1. Granted, I expect that number to drop if they keep playing like they've been playing the last couple of weeks. Heading into Wednesday's game at home versus Calgary, Chicago had won five in a row thanks in large part to the goaltending of Corey Crawford.
The Blackhawks lost a number of important pieces from their roster in the offseason but the core of Jonathan Toews, Patrick Kane, Marian Hossa, Patrick Sharp, Duncan Keith and Brent Seabrook still remains. They won't be surrendering their title without a fight.
I will be posting weekly articles about betting previews, matchups and the inside scoop from a bookmaker's point of view right here at Doc's Sports. Read my past articles – Click Here, and learn more about Bodog sportsbook – Click Here. If you're ready to set up an account and start playing I'd like to offer you a sign up bonus Click Here and enjoy our services.